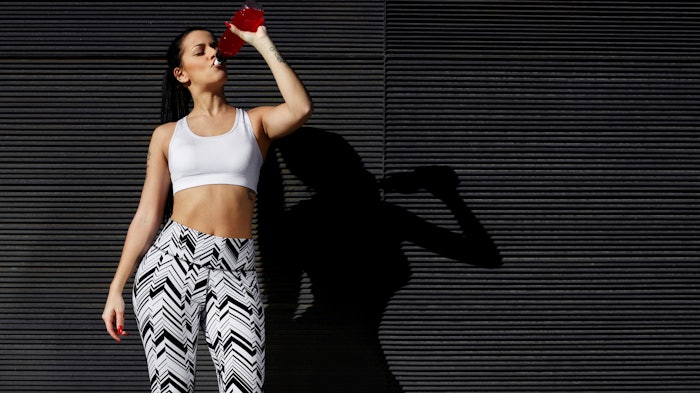 dreamstime
According to a report by Future Business Insights, the global functional food and beverage market size was $281.14 billion in 2021. The market is projected to continue to grow at a CAGR of 9.5% during the forecast period of 2021-2028, reaching $529.66 billion in 2028.
Related: Flavor Trends in Functional Foods & Beverages
Functional foods and beverages have gained traction in recent years due to increased consumer awareness of their purported health benefits, like boosting immunity, which was particularly desired during the high of the pandemic.
Highlights of the report include:
Restricted exports of some active nutraceutical ingredients across major importing and exporting countries, such as China, India and the United States has a been an issue facing the industry and slowing down production.
To combat this, players in the industry have tapped even more into digital spaces to boost advertising.
Functional food and beverage trends are driven by rising demand for health and nutrition-rich diets.
Evolving lifestyles and increasing incomes of consumers across the world have fueled the demand for products with superior nutritional profiles.
There is also a growing demand for on-the-go snacks containing additional nutrients that provide instant nutrition.
The rising demand for hemp-infused foods and beverages, probiotics and prebiotics are also becoming popular due perceived health benefits.
Another factor responsible for driving market growth is increasing research and development activities to introduce innovative functional food and beverage products to consumers, including functional confectioneries such as gummies and toffees, nutrition bars and functional drinks that attract fitness enthusiasts.
Technologies such as encapsulation, enzyme technology, vacuum impregnation and edible coating are increasingly being utilized for the development of functional foods and beverages.
The challenge faced in masking the bitterness, off-tastes and undesirable flavors of some botanical extracts and herbs is negatively impacting market growth.
Flavor addition for the reduction of bitterness and taste masking is one of the most significant trends in the functional food and beverage industry. Natural flavors are generally used in functional beverages and food due to the rising popularity of plant-based ingredients.
Increased consumer inclination towards aiding digestive health has contributed to raising the demand for prebiotic and probiotic dairy products.
The cereal and grain segment is another important segment that is generating high revenue due to the fortification of cereals and grains as an effective method to tackle nutrient deficiencies.
Mass merchandisers (supermarkets/hypermarkets) are the leading distribution channel for functional food and beverages, while e-commerce provides a positive channel for online retailers.
The Asia Pacific market value stood at $100 billion in 2020 and is projected to register at a CAGR of 10.4% during 2021-2028.
In Europe, the demand for foods with functional benefits is progressing at a stable pace, as well as the North American market, owing to a continued rise in health-conscious consumers.
Want to know everything going on in flavor & fragrance? Sign up for P&F+'s newsletter. You can also follow along on Instagram and LinkedIn.