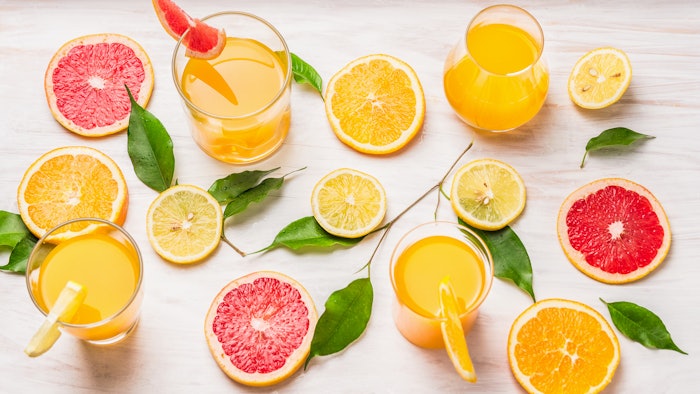 According to a report from Future Market Insights, the citrus flavors market to surpass $4,931.5 million by 2031, growing at a CAGR of 5.2% for forecast period of 2021 to 2031.
Related: McCormick Releases Annual Flavor Forecast
The report details that increasing demand from industries, including bakery and confectionery, beverages and dairy products, is driving the global citrus flavor market.
Consumers are increasingly interested in eating natural and organic foods and beverages, and consuming health supplements while cutting down on processed food and synthetic additives.
Increased consumer interest in preventive healthcare is pushing manufacturers to use natural and healthier ingredients in their food and beverage products. Citrus fruits are rich in vitamins, antioxidants, flavonoids and other nutrients. Consequently, citrus-derived flavors are perceived as a healthier alternative to synthetic flavoring agents and are increasingly accepted by health-conscious demographics.
According to FMI, North America is a leading market for citrus flavors and is expected to witness strong growth over the forecast period. According to the study, the U.S. citrus market is estimated to account for nearly 90.0% of the North American market in 2021.
The rising demand for citrus-based soft drinks in Germany will act as an important growth driver for the overall market. According to the report, the German citrus flavors market is estimated to be valued at $154.0 million in 2021.
Citrus flavor combinations like ginseng and lemon are popular in the European soft drinks industry. Mint citrus sweet flavors are common in candy and confectionery, while citrus-infused beer with lime and lemon varieties and zesty grapefruit flavors are also popular in alcoholic beverages.
Owing to increased awareness among consumers regarding natural food products, natural citrus flavors are expected to witness an impressive growth rate of 9.3% CAGR over the forecast period.
Want to know everything going on in flavor & fragrance? Sign up for P&F+'s newsletter. You can also follow along on Instagram and LinkedIn.