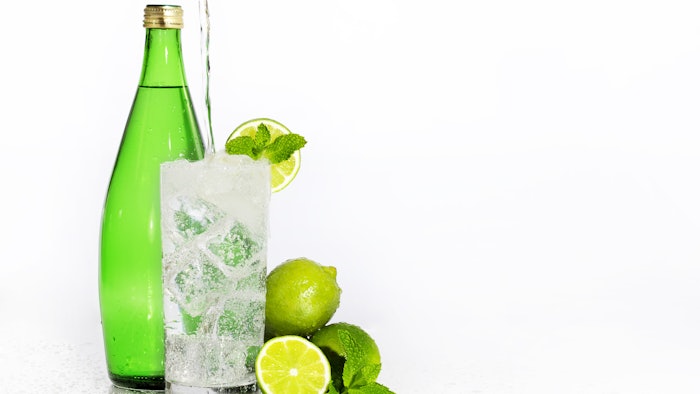 Grandview Research's report on the sparkling water global market indicates that the market is expected to grow at a 12.6% CAGR through 2028. The market was previously valued at $29.71 billion in 2020. Growing healthy lifestyle trends are lending consumer preference toward healthy and innovative drinks over sodas and sugary carbonated drinks.
Related Report: Ready-to-drink Cocktails Global Market Trends
Consumers are switching to sparkling water due to the presence of a variety of minerals, including sodium, magnesium and calcium, per the report. Most view carbonated water as a healthier alternative to soda, partly fueled by an increasing number of bottled water advertisements highlighting the benefits of the product.
Natural/mineral sparkling water held the largest market share (60%) in 2020, with flavored variants preferred for taste, fizziness and health benefits. The caffeinated segment is projected to register the fastest CAGR of 12.6% from 2021 to 2028. Caffeinated sparkling water benefits as a substitute for coffee drinks, sweetened teas and conventional energy drinks. The growth of this segment is also attributed to rising consumer demand for different flavors such as berry, orange, cucumber and lemon.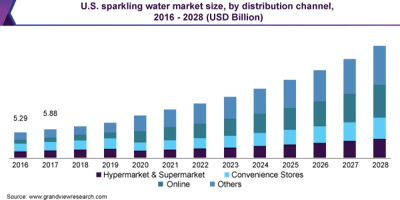 The wide availability of premium and private label sparkling water brands at supermarkets and convenience stores contributed to that distribution channel holding a significant market share in 2020. The online distribution channel is expected to register the fastest CAGR of 13.3% during the forecast period due to shifting consumer shopping behaviors and benefits offered by online platforms, including convenience, subscription services and discounts.
North America held the largest market share (35%) among regions in 2020. In Europe, there is a strong demand for sparkling water in countries that typically serve sparkling water with meals in restaurants, including Germany, the United Kingdom, Italy, Spain, France and the Netherlands. The rising growth of quick-service restaurants in Europe will positively benefit the regional market, per the report.
Want to know everything going on in flavor & fragrance? Sign up for P&F+'s newsletter. You can also follow along on Instagram and LinkedIn.