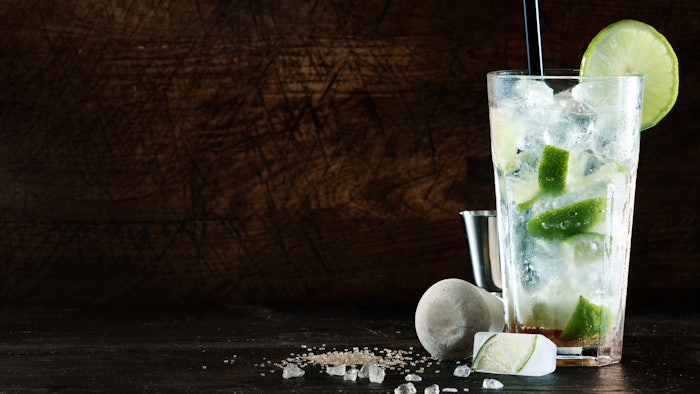 A market report by Grandview Research indicates that the ready-to-drink cocktails global market is expected to grow at a 13.4% CAGR through 2030. The market was valued at $782.8 million in 2021. Premiumization of the products and growing demand for flavored drinks with low alcohol content are expected to drive the market.
Related Report: Beverage Flavoring System Global Market Value
The COVID-19 pandemic has had a positive impact on the market due to the growth of the at-home cocktail culture, increased concerns for health, convenience and the enhanced quality and diversity of ready-to-drink cocktails.
Grandview Research reports that the per capita alcohol consumption in Russia, Australia, Brazil, China and South Africa has declined significantly in recent years. The desire for lower amounts of alcohol and changing lifestyles is expected to boost the demand for drink cocktails. Gin and tequila-based products have been in particularly high demand among consumers, while the supermarket is expected to be the dominant distribution channel.
Spirit-based cocktails held the largest revenue share (40%) in 2021 and are expected to maintain that during the forecast period. Wine-based cocktails are expected to be the second-fastest growing segment at a CAGR of 13.1% during the forecast period. The bottles segment dominated the market for ready-to-drink cocktails, accounting for a revenue share of more than 55.0% last year, but the cans segment is anticipated to expand at a CAGR of 13.9%, the fastest of any segment
North America was the strongest region for ready-to-drink cocktails, with a revenue share of more than 30% in 2021, and is expected to maintain its lead in the forecast period. The report indicates the growing consumer demand for different flavors and shifting preferences toward on-the-go products resulted in North America holding the highest revenue share of any region. Asia Pacific is predicted to register the fastest growth, with an expected CAGR of 14.9% during the forecast period.
Want to know everything going on in flavor & fragrance? Sign up for P&F+'s newsletter. You can also follow along on Instagram and LinkedIn.