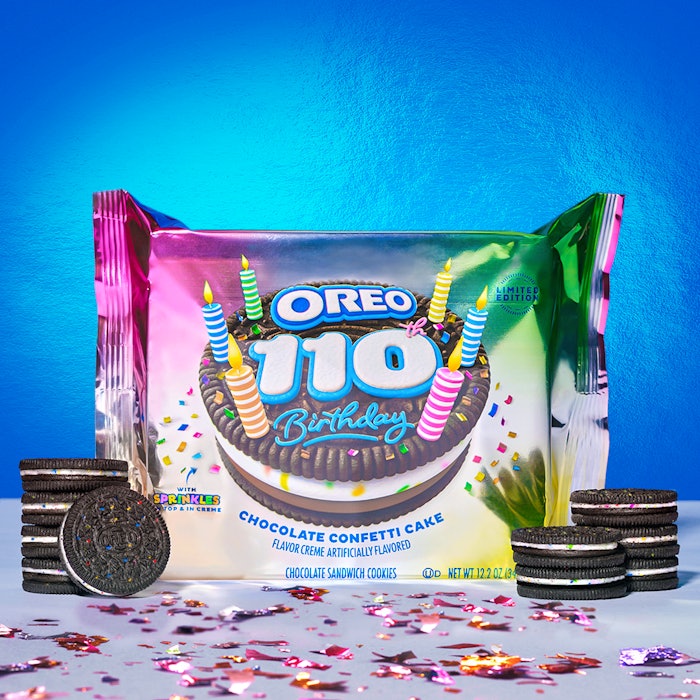 A report by Globe Newswire* quotes research from Precedence Research, stating that the global confectionery market size is expected to expand at a CAGR of 2.4% during the forecast period of 2021 to 2030. By 2030, it will be valued at around $298.2 billion.
Related: Report: Low Alcohol Beverages Market Value
With a new year comes new flavors hitting retail shelves across the world, and the confectionery field is as sweet as ever. From baked goods to frozen delights, here are some of the latest dessert flavor launches.
Mars Wrigley's Dove Chocolate released Dove Large Promises which are three-times the size of the original Dove Promises. They come in two flavor combinations, milk chocolate and caramel, as well as dark chocolate and peanut butter.
For Oreo's 110th birthday, the company is debuting its latest flavor, Oreo Chocolate Confetti Cake. The limited-edition cookie features rainbow sprinkles inside and on top, with a chocolate cake-flavored crème filling. The birthday treat will hit retail shelves nationwide beginning January 31.
Ben and Jerry's released two new dairy-free flavors, Boom Chocolatta and a twist on their classic Bananas Foster. Bananas Foster combines sunflower butter-based ice cream with a cinnamon/ banana-forward flavor with crunchy almond toffee and a salted caramel core. Boom Chocolatta features an almond milk-based ice cream in mocha and caramel flavors with fudge flakes and gluten-free cookies around a gluten-free chocolate cookie core.
Ben & Jerry's also partnered with Chance the Rapper to release Mint Chocolate Chance ice cream, a limited-edition flavor with a mint base and fudge brownie pieces offered in both dairy and non-dairy options, as well as a sunflower butter-based version. A portion of the sales from Mint Chocolate Chance will support Chance the Rapper's Chicago-based SocialWorks.
Coldstone Creamery partnered with Silk to introduce a plant-based flavor to Cold Stone's dessert offerings, Silk Chocolate Almondmilk Frozen Dessert. The flavor will be used in the Don't Cry Over Spilled Silk Creation, made with the plant-based frozen dessert, banana, peanut butter and roasted almonds.
Kit Kat has released two new flavors, Kit Kat Things Chocolate Hazelnut and Kit Kat Duos Strawberry and Dark Chocolate. Available nationwide and now a permanent addition to the lineup, the Duos Strawberry + Dark Chocolate flavor combines sweet strawberry with decadent dark chocolate, while Thins Chocolate Hazelnut adds a hazelnut flavor to a light, crispy version of the classic Kit Kat Thins that launched last year.
Klondike is expanding its line of Klondike Cones with five new flavors, including Coocoo for Caramel, Vanilla Caramel Classic, Cookies 'n Cream, Reese's Peanut Butter and Reese's Chocolate.
Klondike Coocoo for Caramel Cones includes a caramel base with a caramel sauce core, a crispy wafer cone, topped with a chocolate coating and roasted peanuts.

Klondike Vanilla Caramel Classic Cones includes a vanilla base with a caramel sauce core, a crispy wafer cone, topped with a chocolate coating and roasted peanuts.
Klondike Cookies 'n Cream Cones includes a vanilla base with chocolate cookie pieces, chocolate sauce core, a crispy chocolate wafer and topped with a chocolate coating and chocolate cookie bits. 
Klondike Reese's Peanut Butter Cones includes a peanut butter base, a crispy wafer cone, topped with a chocolate coating. 
Klondike Reese's Chocolate Cones includes a chocolate base with Rees'e peanut butter sauce core, a crispy wafer cone, topped with a chocolate coating.

*Confectionery Market Size to Worth Around US$ 298.2 Bn by 2030.
Want to know everything going on in flavor & fragrance? Sign up for P&F+'s newsletter. You can also follow along on Instagram and LinkedIn.