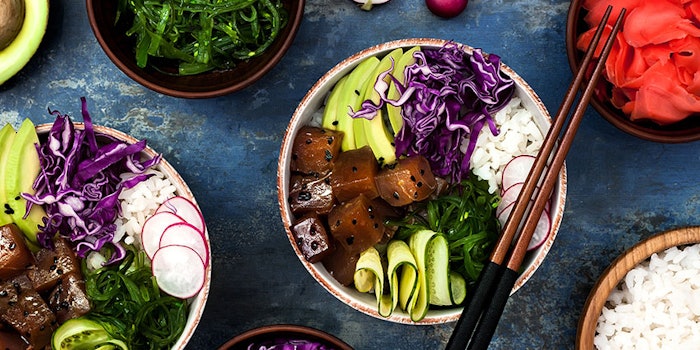 Asian inspiration continues to top restaurant trends, along with other popular global flavors. Alternative presentations, sustainable ingredients and restaurant formats are also having a moment in the sun. Read on for the trends livening up dining options this spring.
Bowled Over: Noodles, grains, breakfasts and more are being served increasingly in the bowl format to marry flavors and provide an attractive and utterly "Instagrammable" dish, especially for younger diners. This crosses over with other trendy menu items such as Hawaiian poke, Japanese ramen, and Vietnamese Pho, along with other dishes with broth, grain and vegetable options that can be mixed-and-matched.
Global Fusion: Special ingredients and flavors previously limited to Asian, Latin American and European markets are now being combined for new global options. Fermented flavors, new takes on popular classics (such as a wide selection of vegetables to make kimchi) and other authentic flavors that mimic the real deal for traveling consumers remain a hit.
Authentic Plant-Based: Veggie burgers have come a long way, drawing in a larger crowd for plant-based alternatives. New technologies can create plant-based options that are much more comparable to real meat, like Impossible Burger's "bleed" like beef burgers. Sustainable ingredients, added to the authentic feel of today's veggie options, appeal to a wide audience.
Restaurant Heroes: Specific dishes are taking center stage as more restaurants cater to specific demographics and audiences. Trendy food items like avocados (and Pinterest-darling avocado toast), ramen and macaroni and cheese dominate these menus, letting restaurants play with the flavors to make unique options.
Read more about these trends at foodingredientsfirst.com.