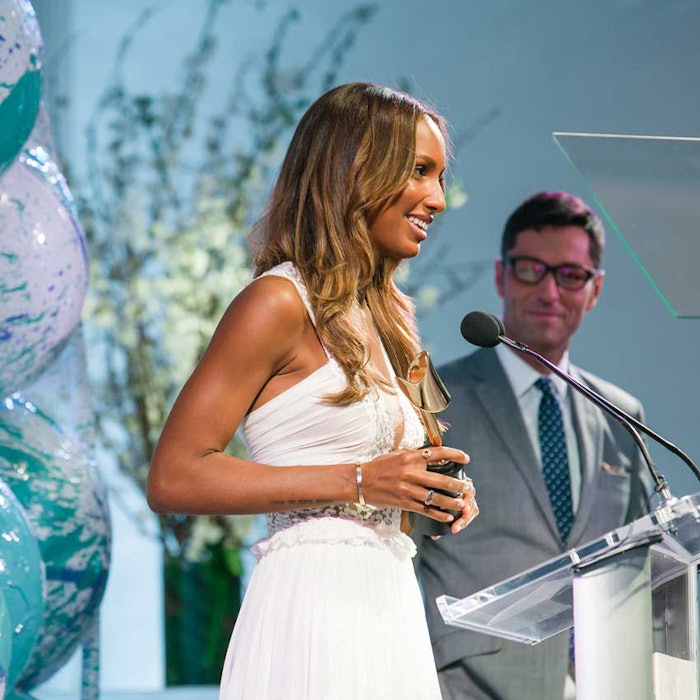 The Fragrance Foundation announced Face of the Year, Instagrammer of the Year, Editorial Excellence in Fragrance, Social Media Campaign and 360-Degree Media Campaign at the Finalists' Luncheon in New York City. Attendees voted on the popular, prestige and luxury categories for fragrance of the year.
Victoria's Secret Angel Jasmine Tookes was awarded Face of the Year by Greg Unis, CEO of Victoria's Secret beauty. Instagrammer of the Year was presented to Olivia Palerno by Michele Promaulayko, editor-in-chief of Cosmopolitan and editorial director of Seventeen.
The Editorial Excellence in Fragrance Coverage award was split into three separate categories: article, online and feature. Allure magazine was presented with both the feature and article categories for "The Culture of Fragrance" by Liana Schaffner and "The Nude Review" by Francis Kurkdijan. The stories were edited by beauty director Jenny Bailly.
The online category was won by New York Magazine's The Cut for "Hermes' First Female Perfumer Talks About Breaking Into the Male-Dominated Fragrance World," written by Kathleen Hou.
MAC Shadescents by MAC Cosmetics received the Social Media Campaign award. The 360-Degree Marketing Campaign Award was presented to Michael Kors Wonderlust.
"Every year, the top five finalists are announced to much nail biting. Even we at the Foundation don't know the results, as they go directly to our accountants," said Elizabeth Musmanno, president of The Fragrance Foundation. "For the first time, we've honored a Face of the Year and an Instagrammer of the Year, Jasmine Tookes and Olivia Palerno."
The winners will be celebrated at The Fragrance Foundations Awards on June 14 at the Lincoln Center. The winners for Fragrance of the Year will be announced that night. Finalists include Mr. Burberry, My Burberry Black, Sweet Like Candy and Yves Saint Laurent Mon Paris Eau De Parfum.
Marc Puig, CEO of PUIG, will be recognized as the Hall of Fame honoree for the year. Harry Fremont, master perfumer at Firmenich, will receive the Lifetime Achievement Perfumer award.