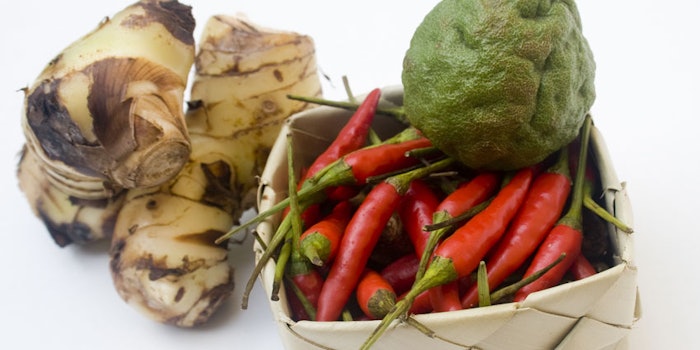 Asian flavors continue to trend throughout the U.S. with Japanese and Chinese flavors along with fusion cuisine to appeal to U.S. favorites. Specifically, with Southeastern flavors, the National Restaurant Association noted that, along with Japanese and Chinese cuisine, Vietnamese and Korean dishes and flavors are starting to pique the interest of the U.S.
Restaurants are attempting to create Asian fusion dishes like Asian fusion tacos that mix American and Mexican favorites. Asian flavors are seen in products like Asian-inspired syrups and condiments which continue to grow and trend by 68%. Conversely, Asian noodles like soba, udon and ramen decreased by 6% as a result of mainstream popularity. Dumplings and eggrolls are the most popular in restaurants, satisfying consumer needs for ethnic foods and desire for portability.
Spice, Teas and Sriracha
The Japanese chili pepper, togarashi, has increased in popularity by 200% in menus over the past four years. The trend continues to grow each year as Asian cuisine continues to add flavors to vegetable appetizers and sides. Also, Japanese matcha, a finely ground powder of specialty green tea, has grown 57% in the past year, according to Datassential. The tea powder is nutritious and is often used in beverages and desserts. Occasionally, this product is used in oatmeal and granola.
Sriracha is increasing at 37% in menus nationwide, according to Datassential. Being incorporated with mayo has also increased in menus by 30% in order to introduce the flavor to a broader audience. Researchers and developers have been promoting sriracha for U.S. dishes, especially in mainstream versions of potstickers and eggrolls. The sweet chili sauce, adds enough spice to keep the interest of consumers looking for more mild flavors.