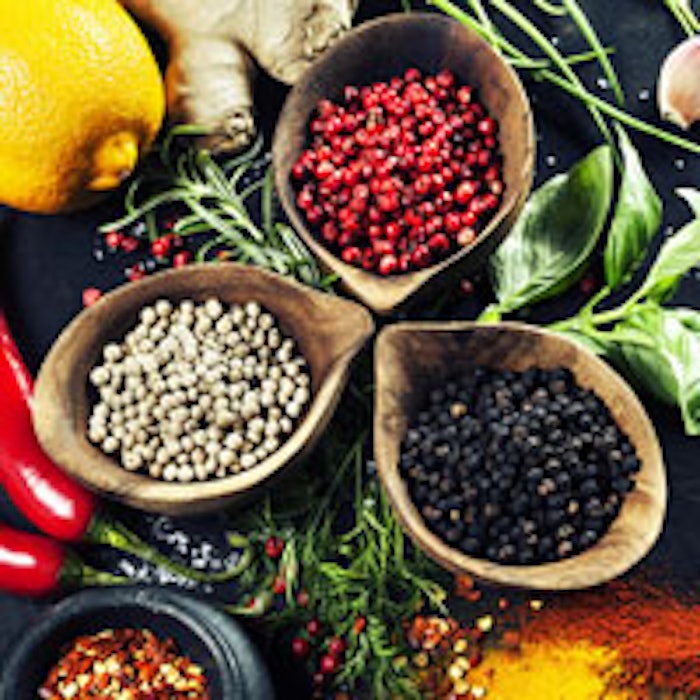 In addition to their 25 Asian inspired flavors already, Bell Flavors and Fragrances created a range of new Asian inspired flavors with a variety of tastes including hot, spicy, tangy and sweet.
Bell's new flavor line is influenced from a variety of Southeast Asian countries including China, India, Indonesia, Japan, Korea, Malaysia, Philippines, Thailand and Vietnam.
Flavor Range
The flavors include green tea, gochujan, Thai holy basil, fish sauce and coconut milk.
Green tea is seen in ice cream, smoothies, baked goods, energy bars chocolate and lattes.
Gochujang is a Korean and soybean fermented condiment giving off a savory note and a slight heat from red chilies. This flavor pairs with traditional Asian cooking and can be used for American foods as well such as barbeque chicken.
Thai holy basil has a fresh, savory, sweet and green flavor with notes of licorice.
Originating from Vietnam, Bell's fish sauce flavor has the capability of being allergen free in.
The coconut milk flavor has a subtly sweet and tropical flavor with a rich creamy mouth feel. This flavor is used to add slight tropical notes to stews, soups, puddings and cakes.
Food and Beverage Relation
Bell recognized a popularity growth in Asian flavors in foods and beverages and the company is now looking to expand the Asian flavor line regularly.
"Our new Asian Flavor line can infuse intriguing flavor profiles into your latest product offerings," said Chris Warsow, executive chef of Bell. "They offer true profiles of authentic ingredients that consumers are craving in snacks, condiments and sauces."