Throughout human history, the moments in the day when friends and family members gathered around a table for meals held significant cultural importance. In the Jewish faith, the Shabbat was a moment of rest and reflection that was marked with three festive meals. The famous Norman Rockwell painting "Freedom from Want" is a classic slice of Americana, which shows a family gathered around the table, eagerly awaiting their Thanksgiving dinner. Food traditions were born out of the idea of sitting and sharing meals, like the Cantonese food tradition of dim sum, which saw its origin as a reprieve for weary Silk Road merchants and travelers. Translated into English, dim sum simply means "touch the heart."
But as society changed and modernized, so too did this custom. Globalization, digitization and consumer behaviors changed how people consumed food, resulting in less formal meals. More recently, a fast-paced, urban-driven lifestyle has led consumers further away from the dining room table and closer to the snack aisle of grocery stores and convenient stores. According to a 2015 Hartman Group reporta, 90% of consumers snack multiple time throughout the day with 7% foregoing meals altogether for the all-day snacking option. Along with the fork, knife and plate, a pea-based bag of chips or a natural probiotic snack bar offers consumers with satiety, nutrition and of course, flavor.
The Rise of Snacking
This change in consumer behavior has propelled the snack market into new heights. According to a Mordor Intelligence reportb, the global snack food market is expected to reach $639 billion by 2023 at a CAGR of 5.8% during the period of 2018-2023, largely driven by demand for functional, protein-fortified and natural-based products. The largest player in the snack game remains to be the U.S. which generated $63,860 million in 2018.1 The same year, the European snack market was estimated to be worth $21,707 million and expected to grow by a CAGR of 3.0%.2 In Asia-Pacific, the processed meat, poultry and fish industry saw a boom in product release, increasing by 18% from 2014 to 2016 and led largely to the emergence of snacking in the region.3
Like other segments of the flavor and food industry, the trend towards clean, natural and organic products is a huge driver. According to a 2017 IRI reportc, 42% of consumers want products with easy-to-understand ingredients, while 48% want organic products and 43% want natural products. In a separate report by Amplify Snack Brands Inc. and the Center for Generational Kineticsd, 64% of Millennials believed that fewer ingredients on a label make for a healthier product. With these reports and others, the trend is clear – consumers crave products with simple ingredients that provide added benefits and unique flavors.
What's New in Nuts
According to a Statista reporte, the largest segment of the U.S. snack market goes to the nuts and seed category with $22,825.3 million of revenue in 2017. However, nuts and seeds weren't always the snack leader they are today. In 2010, the leading U.S. snack category were tortilla chips, flips and pretzels with $18,968.7 million in revenue, with nuts and seeds bringing in a lesser $10,639.4 millionf. Over the years, consumers became wary of overly salted and fatty snack products, largely potato and tortilla chips, and began to view nuts and seeds as a healthier alternative.
The leader in this snack category, Planters Nuts, offers a range of flavorful nuts in various product formats. One of their latest innovations is Planters Crunchers, a whole peanut wrapped in a crunchy flavored shell. This product is created with natural flavors and at launch was available in either mesquite BBQ, hot n' spicy, sea salt and black pepper and cinnamon brown sugar flavors. Another recent addition to the Planters portfolio is its dessert-inspired mix line, which features a trail mix assortment of nuts and other snacks. At launch, the mixes were available in either chocolate peanut butter brownie, oatmeal raisin, banana sundae and turtle sundae flavors.
Another leader in this snack category is Blue Diamond with its line of snack almonds. In addition to its traditional flavors, the brand offers bold flavors, honey roasted and oven roasted selections. Created with natural flavors, its bold collection focuses on flavors with spice and heat. The line of snacks currently offers wasabi and soy sauce, sweet Thai chili, sriracha and habañero BBQ flavors. On a sweeter note, its honey roasted collection is offered in original honey roasted, honey roasted cinnamon, honey roasted vanilla and honey roasted chipotle. Lastly, its oven roasted selection includes dark chocolate, blueberry, toasted coconut and salted caramel flavors.
One of the biggest challenges to the seed and nut category when it comes to flavor innovation is the preference by many to eat them plain or simply with salt, bucking any added natural or artificial flavors. The second largest snack nut provider, Wonderful Nuts, prides itself on being a clean product with its line of roasted and salted pistachios and almonds. However, the company has also seen the importance of incorporating flavor and now offers a sweet chili flavor, which is made with natural flavors.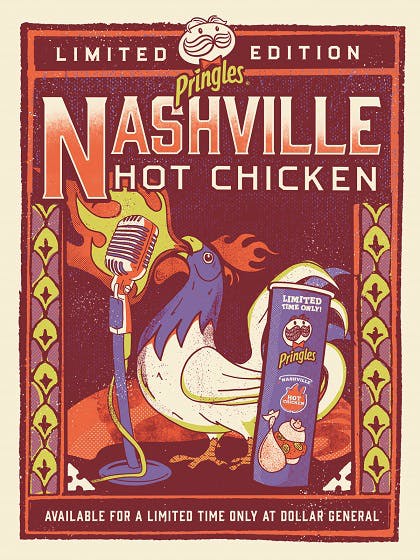 Known for its nostalgic flavors, Pringles released a limited-edition Nashville Hot Chicken flavor of its classic chip. Photo courtesy of the Kellogg Company.
Chipping Away
Though the potato chip market might have lost some of its crunch from the expansion of the nut and seed category, along with other emerging snack categories which will be discussed in this article, it still remains a strong and diverse segment for flavor innovation. According to an IMARC report on the global potato chips marketg, the business was worth more than $28 billion in 2017 and is expected to grow at a CAGR of 3.4% during 2018 to 2023.
In the U.S., the leading potato chip brand was Lay's with $1,694.2 million in sales for 2017, with Wavy Lay's bringing in an additional $508.7 million. As the largest brand of potato chips, the Lay's brand offers an extensive profile of flavors and chip formats. One of its leading formats is Lay's Kettle Cooked. The line currently offers chips in cream cheese and chive, jalapeño cheddar, honey chipotle, regular jalapeño, sweet and smoky barbecue, mesquite BBQ and sea salt and cracked pepper flavors. These flavors are created with natural flavors and generally marketed as a healthy snack option. In 2017, the company also released its latest Lay's format, Lay's Poppables, which are available in honey BBQ and white cheddar flavors, along with a non-flavored sea salt version.
While the leading snack brand in the U.S. is focusing on innovative formats, the second largest brand, Pringles, has been focusing on flavor. Similar to other large chip brands, the Pringles brand offers a range of classic flavors including ranch, BBQ, sour cream and onion and cheddar cheese flavors. However, Pringles is more known for its interesting and nostalgic flavors. In June 2018, the company announced the release of a limited-edition Nashville Hot Chicken flavor, which blends jalapeño, cayenne pepper and paprika. Earlier in 2017, Pringles brought back its fan-favorite Top Ramen Chicken flavor and released Chicken Salt and Meat Pie flavors in Australia and sukiyaki flavored chips in Japan. Rounding out the 2017 year of adventurous releases, the company released a Thanksgiving-themed box of Pringle flavors, bringing the famous Norman Rockwell painting to your fingertips.
Peas-a-Plenty
While potato and tortilla chips might have been the snack food for the 20th century, the 21st century is looking for healthier pastures and might have found it with pea-based products. According to a Grand View Research reporth, the global pea protein market was estimated to be worth $73.4 million in 2016, with U.S. markets expected to grow at a CAGR of 9.8% from 2017 to 2025. One of the leading drivers is the use of pea proteins in snacks.
A leader in this pea protein snack segment is Harvest Snaps with its range of baked green bean snack crisps. Created to be gluten-free, naturally formulated and non-GMO Project Verified, the snack is available in lightly salted, Caesar, tomato basil, mango Chile lime, black pepper, white cheddar, parmesan roasted garlic, habañero and wasabi ranch, with new flavors being introduced regularly. The products are promoted with containing reduced fat and a good source of fiber and protein.
Taking a twist on the classic cheese puff snack, Hippeas provides a line of on-trend flavored organic chickpea snacks. The line of products currently includes Far Out Fajita, Sriracha Sunshine, Vegan White Cheddar, Pepper Power and Bohemian Barbecue. Organic snack company, The Good Bean follows suit of both Hippeas and Harvest Snaps by providing chickpea and green pea flavored snacks. The company's Crunchy Chickpeas snack is a lightly roasted crispy snack that comes in sea salt, classic hummus, chili lime, sweet cinnamon and Thai coconut flavors.
Another company operating in the pea snack business is Three Farmers with its line of green pea and chickpea snacks. Its Pea Pops products are marketed as never roasted and made to be nut-free, gluten free and non-GMO. The product is currently available in many Canadian markets and is available in Sriracha Slap, Wild Ranch and Dill Pickle Pow flavors. On the sweeter side, the company's roasted chickpea snacks are available in sea salt and lime, maple cinnamon and barbecue flavors. Both products are created with natural flavors.
Snack Yourself to Sleep
Healthier snack bars, breakfast bars and granola bars are another booming segment. According to a Mordor Intelligence reporti, the U.S. snack bar market is expected to reach $6.8 billion by 2023, growing at a CAGR of 7%. One of the trending areas in the snack bar segment is in the functional snack bar category. Snack bars are being marketed to wake you up, help you sleep and offer feel-good properties.
Arguably the most popular functional benefit in snack bars is energy. Leading snack bar brand Clif offers a full line of flavorful snack bars, ranging from fruity to sweet. Its Clif Bar line features apricot, carrot cake, chocolate almond, cool mint chocolate, coconut chocolate chip, white chocolate macadamia, peanut butter and honey and other flavors. Additionally, the brand offers a nut butter-filled version of its snack bar in chocolate peanut butter, coconut almond butter, chocolate hazelnut butter, peanut butter, banana chocolate peanut butter, blueberry almond butter and caramel chocolate peanut butter flavors. More recently, the company introduced its Clif Bar Fruit Smoothie-filled snacks, which features a fruity center created from juice concentrates. All the products are created with natural and/or organic natural flavors.
Another leader in this space is snack bar brand Kind, which blends the popularity of nuts with the snack bar format. Its Kind bar line features maple glazed pecan and sea salt, dark chocolate mocha almond, salted caramel and dark chocolate nut, blueberry vanilla and cashew, honey roasted nuts and sea salt, Madagascar vanilla almond, raspberry cashew and chia and other flavors. In addition to its regular line, Kind also offers a breakfast protein line that features peanut butter banana dark chocolate, dark chocolate cocoa, honey oat, peanut butter, blueberry almond, maple cinnamon and almond butter. Both products include natural flavors and promote its protein contents.
Appearing on the first page while searching "energy snack bars" on Amazon, Power Crunch is another popular snack bar with its line of wafer crème protein bars. Focusing more on sweet flavors, its line of protein energy bars are available in wild berry crème, salted caramel, peanut butter fudge, French vanilla crème, peanut butter crème, mocha crème, chocolate mint, triple chocolate, cookies and cream and red velvet flavors. Similar to other snack bar brands like Kind and Clif, Power Crunch is now also offering a line of snacks for children. Its Snapstick line features peanut butter honey, chocolate lava and birthday cake flavors. These products promote its high protein content and are created with natural and/or artificial flavors.
One of the emerging areas of functional snack bars are products that promote or help sleep. In the adjacent beverage category, brands like Neuro Drinks, Som Sleep and Good Night Drink have begun to normalize this segment. In the snack space, Nightfood offers its "zero guilt before bed" snack, which is available in either Cookies N'Dreams or Midnight Chocolate Crunch version. Dream Bars, which claims its food ingredients benefit neurotransmitters associated with memory, mood, REM sleep and dreams. Its portfolio, which is devoid of added flavors, includes apple chamomile, banana lavender and tart cherry lemon balm.
Creepy, Crawly and Extra Crispy
Globally speaking, the edible insect market is crawling with growth and innovation. According to a Meticulous Research reportj, the global edible insect market will be worth $1,181.6 million by 2023, growing at an accelerated 23.8% CAGR from 2018 to 2023. Though still perceived in a negative light in North American markets, products have been slowly emerging that have begun to challenge the notion that bugs are too gross to eat.
One area that is bugging with insects are in the snack bar and protein bar segment. UK insect snack brand Jimini's expanded its line of products to include snack bars and granola mixes. Created with cricket powder and natural flavors, the line of snack bars includes dark chocolate and fig; apricot, goji and chia, apple and cinnamon and banana and dark chocolate flavors. In the protein bar segment, Swarm Protein offers a red berry, chia hazelnut and raw cacao snack made from cricket powder and natural flavors.
Another area that has seen recent attention is the chip segment. Snack creator Chirps is hoping to change the conversation of edible insect with its line of tortilla style chips. The current line of products included a flavored cheddar cheese and BBQ chip, along with an unflavored sea salt chip. Each product is created to be gluten-free, full of protein and all natural.
In addition to these flavored products, there are many other insect-based snacks that are formulated without any natural or artificial flavors; like Exo, Eat Grub and Coast. This provides an opportunity for flavorists to provide unique flavor solutions in masking and enhancing for the expanding insect-based snack market.
Back at the Table
Despite the emergence of snacking as an antidote for food on-the-go, the idea of enjoying a meal together isn't completely lost as a cultural value. According to a Toluna studyk on eating habits of U.S. families, 78% of parents place a high priority on eating together, with 58% of those parents wishing that they could sit down more for a meal. Even for younger generations, family mealtime is important: 60% of millennial parents wish they could share mealtime more, opposed to 55% of non-millennial parents.
Though snacking has taken some attention away from traditional mealtimes, it has stepped into a role of providing many of the same benefits: providing consumers accessible, flavorful and healthy foods. It can be said that snacking helps consumers bridge the gap between their outside life and home life and facilitate a way to combat modern demands and speed up the process of getting back to what matters most – each other.