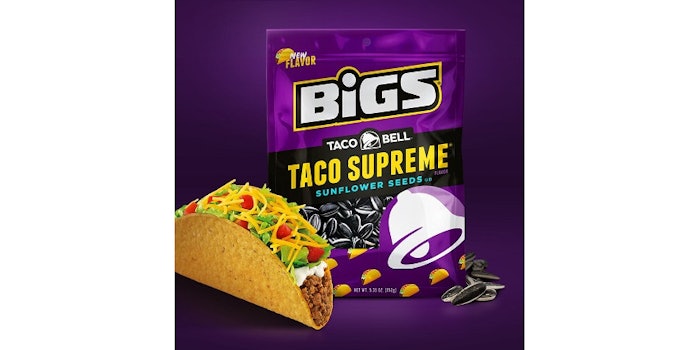 Bigs Sunflower Seeds have introduced its latest Taco Bell-flavored sunflower seeds, which will debut in retail locations in April 2018.
Bigs' latest flavor of sunflower seed, Taco Bell Taco Supreme, will feature USA-grown sunflower seeds with the restaurant's signature spicy taco flavor and crunch. News of this product comes shortly after Taco Bell released plans for a line of tortilla chips inspired by its sauces.
"Both Bigs Sunflower Seeds and Taco Bell are synonymous with bold flavors," said Greg O'Neal, VP of marketing for Bigs Sunflower Seeds. "We're excited to introduce these sunflower seeds to fans of both Bigs and Taco Bell. We anticipate taco lovers around the country are going to love them."