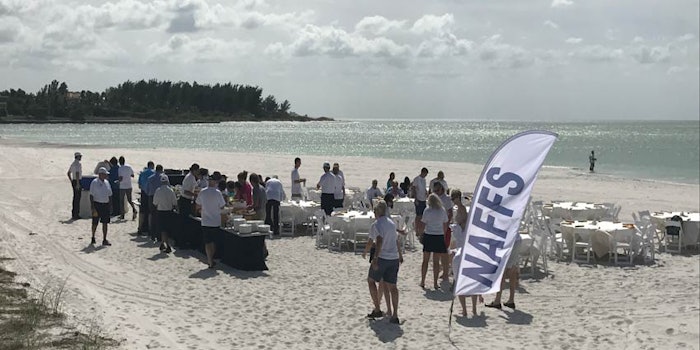 To raise new questions, new possibilities, to regard old problems from a new angle, requires creative imagination and marks real advance in science." – Albert Einstein
Keeping Up with Digital
"Technology is not with us. We have an opportunity to change it," explained Jerry Bowman, executive director, Flavors and Extracts Manufacturers Association (FEMA) during the first session of the National Association of Flavors and Food Ingredient Systems' (NAFFS) 99th annual convention at the Longboat Key Club in Longboat Key, Florida on October 27, 2016.
Bowman described the current media landscape as the Wild West, where information is littered freely with little to no filter and news sources are head-to-head with one another in the battle for the most clicks. Ultimately, consumers are looking to make the most informed decisions for themselves when it comes to health and wellness, Bowman explained. With the segmentation of news sources and the decentralization of reliable news, how can the industry and the public engage with "news you can use?"
"We need to be communicating in a very different way," said Bowman. Connecting with the public through creative storytelling is a way for companies to engage with its audience. There are opportunities in Facebook, Twitter, Instagram, LinkedIn and other social media channels to speak up in the name of scientific research and the industry it supports. Bowman also discussed the rise of citizen journalism—the public participation of gathering news—which includes print and video from local news sources.
But how does an industry that is based off of proprietary information, and one that has been stigmatized in mainstream media, establish a voice that fosters education, transparency and wellness? Bowman is hopeful. "There is an opportunity to reach the consumer," he said. This endeavor includes understanding the positive and negative stories that are unique to each company and organization in the industry and delivering a factual (and creative) story based on that information.
What is Natural? What is Correct? What is Safe?
Along with pressures from the public to ensure clear labeling that is safe and correct, the flavor industry faces the pressure of adhering to different definitions of natural from the FDA, USDA and the EU. In other words, there are variations in restrictions when working with naturals, explained Simon Poppelsdorf, R&D flavors division, Bell Flavors & Fragrances,. Furthermore, with the limitations we have on our natural resources, "it's virtually impossible to go all natural."
"The chemical reality is that whether a substance is entirely new, copied or extracted from nature, it tells us nothing about its intrinsic safety. Likewise, the terms, 'industrial,' 'synthetic,' 'artificial,' and 'man-made' by no means non-safe [and] 'natural' does not necessarily mean better/safer."
Perhaps it's "not about what chemical, but it's about how it's used," said Poppelsdorf. By focusing on a chemical's dosage in a product, we direct the spotlight on its safety. This thought could certainly lift the tension between artificial versus natural and turn the conversation towards safe versus hazardous.
Updates on "Natural"
Earlier this year, The FDA closed its commenting period on the public's definition of "natural." The organization received roughly 7,600 comments, with roughly 100 comments to be considered helpful in providing direction in defining it, explained Dr. Elizabeth Ormond, deputy director, Florida district Federal Drug Administration (FDA).
She agreed with Poppesldorf in that safety, along with pesticide use and food processing, are not included in defining "natural." However, the Food Safety Modernization Act (FSMA) is currently updating its internal network to provide industry education, outreach and technical assistance for flavor labeling. This includes regulatory education, system-based inspections (rather than observational), and communicative interactions between companies and the FDA. A lofty to-do list, but it appears the FDA is taking on a "help me help you" approach when it comes to establishing consistent regulatory interpretations for the flavor industry.
Pushing Global Safety Standards
Similarly, the United Nations' Global Harmonized System (GHS) offers minor relief in safety stabilization in chemicals. "GHS is a regulatory solutions system for chemicals all along the supply chain," explained Erin Adams, authoring specialist, 3E Company. Prior to GHS, safety testing for hazardous chemicals were unavailable. Updated every two years, the GHS contains mandatory requirements for global safety standards; however, safety standardization between nations proves to be more complex and challenging.
Each country's substance lists are categorized under different classifications (flammable gases, skin corrosion, aerosols, etc.). These classifications are based on the material's hazard levels. Let's take skin sensitizers: the GHS declares that a particular ingredient is considered as a skin irritant at .1%. The United States considers this ingredient to be an irritant at .1%; whereas China considers it to be an irritant at less than 1%. These differences can be due to a variety of factors, including industry-specific classifications, differences in substance classifications due to advisory lists and differences in cut-off limits.
Communication is not only the key for establishing trust with the public, but it's also an essential building block between regulatory agencies and the industry for safety in chemicals.