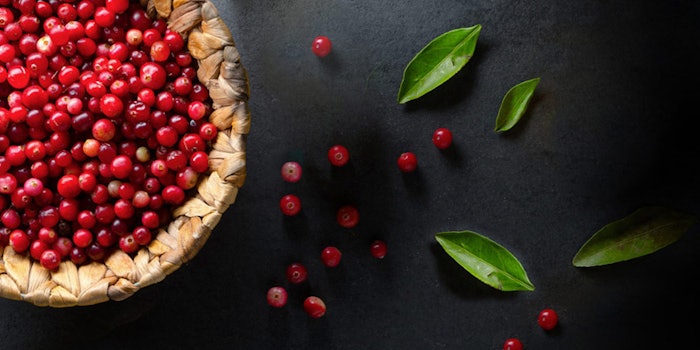 Symrise Diana Food has introduced a clinical study demonstrating the efficacy of whole fruit cranberry extract high in proanthocyanidins as a natural support for urinary health. It will disclose detailed information on the study findings to the industry via a webinar scheduled for July 7, 2021 at 4 p.m. CET in partnership with Vitafoods Insights.
Related: Symrise Invests in Pet Health Company Swedencare
The recently completed clinical study evaluated the effectiveness of Urophenol. This proprietary whole fruit cranberry extract features a high concentration of proanthocyanidins (PACs), versus typical cranberry supplements containing low PACs or non-standardized cranberry ingredients.
PACs are chains of polymeric flavonoids which interact strongly with proteins and glycoproteins. They have been shown to suppress the adhesion of E.coli, the bacteria known to cause urinary tract infections
The randomized, double-blind controlled study found that Urophenol reduces the number of symptomatic urinary tract infections (UTIs) and symptomatic UTI with pyuria in women with moderate UTI recurrence by 43% when compared to low PAC supplementation.
It also demonstrated that the high level of PACs in Urophenol contributed to its multi-level modes of action, from the gut to the urinary tract.
Nathalie Richer, Diana Foods' global product manager health and nutrition, said, "This study confirms that the high concentration of proanthocyanidins found in Urophenol makes it an excellent choice for UTI health supplementation products. We consider it a game-changer in the cranberry extract market segment."
Richer, together with Teresa Kilgore, global head of Health & Nutrition Marketing, will be sharing detailed clinical evidence during the upcoming Vitafoods Insights webinar. The webinar will take place on Jul 07, 2021 at 3:00 p.m. BST.
Want to know everything going on in flavor & fragrance? Sign up for P&F+'s newsletter. You can also follow along on Instagram and LinkedIn.