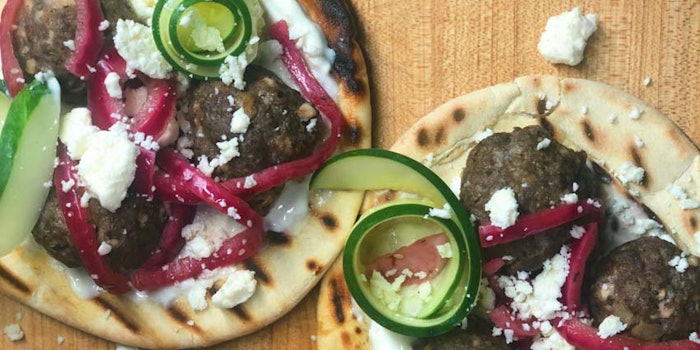 Master Chef competitor, chef Jeff Philbin shares a recipe for Flavorcon Virtual 2021 attendees to cook at home and enjoy during the event. Philbin has also provided a few words on the importance of building flavors and memories.
Related: Look Who's Coming to Flavorcon Virtual 2021 So Far
One of the things I have noticed from the pandemic has been the idea of time.
Not just the cliche way of honoring the preciousness of it, but more so the speed of it. The pandemic to me has felt like time is more of a measurement and with dramatic compare and contrast when truly thought about. Many equate the pandemic to what pop culture reference took place when. It feels like forever ago we were talking about Netflix's Tiger King and since then time feels like it has moved faster and that days just fly by. Food allows us all the opportunity to slow down.
We have the chance to bring loved ones together around the table and in that moment marry flavors, building upon layers of ingredients that bring purpose to that dining experience. It transports us to memories of nostalgia to trying a new trend or just experimenting with new dishes that you concept about of creativity or need. It frees us from being bound to some of the realities that we all endure outside of the kitchen in our daily routine.
As a young father, I treasure that slowing down approach to weave our son into the cooking process and with all of the bullshit of the world; we don't need to be so fast, we can just enjoy the process! We can enjoy the moment as it is the conduit to appreciating time well spent together as a family.
Feta Meatball Flatbreads Recipe
Ingredients
• 1 pound lean ground beef
• 1/4 cup panko breadcrumbs
• 1/4 cup chopped fresh leaf parsley
• 3 tablespoons grated onion
• 1 clove garlic, grated
• Zest of a lemon
• 2 tablespoons fresh lemon juice
• 1 egg
• 1 teaspoon dried oregano
• 1/2 teaspoon ground coriander
• 1/2 teaspoon ground cumin
• 1/4 teaspoon ground cinnamon
• Kosher salt and fresh ground black pepper to taste
• 2 ounces feta cheese, cubed or crumbled
• 1 medium red onion peeled and sliced crosswise into 1/2" planks
• 1/2 teaspoon sugar
• 1/2 teaspoon salt
• 3/4 cup white vinegar
• 1 small clove of garlic, halved
• 1 cucumber
• 1 pack of pita flatbread
How to Make this Recipe
1. Preheat oven to 400° F. Line a baking sheet with foil and spray it with cooking spray.
2. In a large bowl whisk together the panko, parsley, grated onion, garlic, lemon zest and juice, egg, spices, salt and pepper. If you aren't planning to stuff the meatballs with a cube of feta add the feta crumbles to the mixture.
3. Add the ground beef to the mixture and combine with your hands being careful not to over-work the meat mixture. Form approximately 1 tablespoon-sized meatballs. If you are stuffing the meatballs with feta, stuff a small cube of feta into the center of each meatball making sure it is completely covered.
4. Place the meatballs on the prepared baking sheet, spray the tops with cooking spray, then place the baking sheet on the center rack of the oven and bake for approximately 20 minutes or until golden brown.
5. Peel and thinly slice the onion into approximately 1/4-inch moons. Peel and cut the garlic clove in half. Place onions in a bowl to the side
6. Add into a small sauce pan sugar, salt, vinegar, garlic, and flavorings. Stir to dissolve as you bring it to a quick bowl
7. Slowly pour the boiling liquid over the onions and stir gently to evenly distribute the flavorings.
8. Toast the Pita bread in the oven for the final 5 minutes with a wet paper towel.
9. Remove the meatballs from the oven.
10. Slice thin ribbons of cucumber using a mandoline or chef knife
11. Add a layer of Greek yogurt onto a pita, smear, then place meatballs, followed by pickled red onions, cucumber ribbons and any remaining Feta cheese.
Registration is open