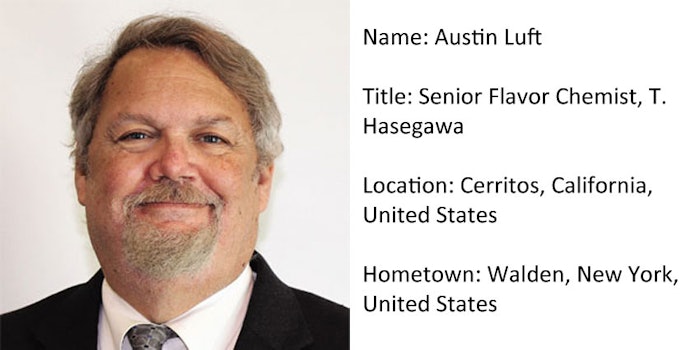 Perfumer & Flavorist+ [P&F+]: What led you to the flavor industry?
Austin Luft [AL]: Despite my passion for flavor development and my long career in this field, I actually found myself in the flavor industry by accident.
I graduated in 1979 with a degree in biochemistry and immediately began my search for full-time employment to begin my career. A family acquaintance in the flavor industry connected me with a company willing to give me an opportunity to start working as a flavor chemist. For me, it was serendipitous that I found the flavor industry because I took to this field immediately. I find the process of flavor development fascinating, while I also enjoy finding creative solutions to challenges on projects.
When I graduated and began working in this field, the idea of a "flavor industry" didn't really exist in any formal way. The field of flavor development existed in small pockets across the country, and people generally didn't know these jobs existed. The industry has grown exponentially over the past few decades, but I was fortunate that when I started, companies were willing to take a risk in giving people an opportunity to work in flavor development.
P&F+: What applications do you primarily formulate for? Do you have a favorite?
AL: At T. Hasegawa, I primarily formulate flavors for meat applications. Throughout my career, I have specialized in developing meat flavors via the Maillard Reaction process (specifically beef, chicken and pork). These are used in products such as marinades, or in meat-adjacent materials like gravy, seasoning, snacks and more. I find this process very interesting and as T. Hasegawa continues its leadership in this category, I expanded use of the Maillard process to sweet brown flavors (vanilla, chocolate, coffee, fried donut, butter etc.) all of which require using heat to give you the final form or flavor.
My favorite to work with is chicken flavor formulations. Chicken is a staple flavor in a wide variety of food products around the world and I'm a big fan of this flavor because of its versatility. There are so many different types of chicken flavors, including roasted, broiled, grilled, fried and more. These variations were some of the earliest flavors that I developed and have played an instrumental role in shaping my career, giving me a better understanding of the development process of flavors.
P&F+: Are there any recent projects/wins you're particularly proud of?
AL: The latest technology from T. Hasegawa that I am proud to have helped develop is Boostract—a natural flavor modifier that helps unlock the flavor potential in foods and beverages. Boostract enhances flavor, amplifies taste characteristics and delivers improved "kokumi" mouthfeel effect. This innovative new product is exclusive to T. Hasegawa and expands our work beyond straight flavor development, into the enhanced or modified area. This flavor technology is already becoming a major part of flavor development for savory products and beverages. We're still discovering all the ways that Boostract can help elevate foods and beverage products to help brands deliver a consistent taste experience to consumers. It is very exciting to be a part of this, and to help continue product development of Boostract.
P&F+: Where do you find inspiration?
AL: I find inspiration in the challenge of problem solving. Formulating flavors in the savory category, we have many restrictions that can make tasks that seem simple actually very complex. Developing a flavor that meets what the customer wants while ensuring it meets government regulations and tastes great to the consumer presents a series of challenges. I look at the flavor development process as a puzzle and I enjoy the challenge of finding a solution that satisfies all the necessary requirements. Despite the creativity required in this profession, I find myself more of a problem-solver, and that's where the creativity truly exists.
P&F+: Do you have any favorite ingredients to work with? Why?
AL: My favorite ingredients to work with are simple: Core precursors (sulfur containing amino acids like cysteine), amino acids and reducing sugars (carbohydrates, xylose, dextrose).
These three ingredients are the "holy trinity" of Maillard technology and form the basis of many of the flavors that we have developed and put on the market. These ingredients are essential for doing my job, so they're easily my favorite.
P&F+: How has COVID affected your day to day as a flavorist?
AL: Being in Southern California during the height of the COVID-19 pandemic, T. Hasegawa has taken a lot of steps to ensure our safety. One way in doing so has been to create shifts for our team members to have lab time as well as home office reliance so we can alternate to best suit the efficiency of our customer requests. The biggest change has come in my reliance on my coworkers more than ever to continue our development of flavors in pursuit of "making life taste better." Naturally, the pandemic slowed the development cycle, but the safety of employees is the highest priority and we have adapted to become quite efficient over the last 10 months.