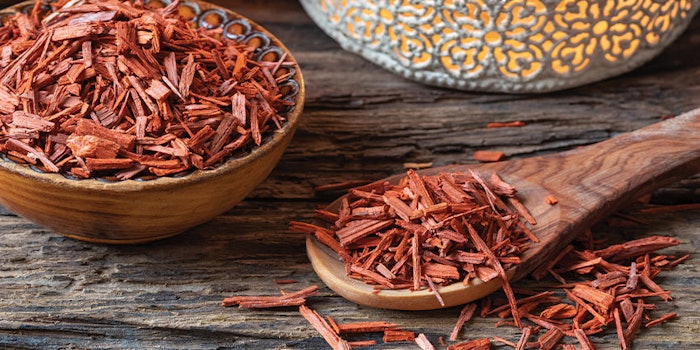 Cedar and sandalwood are two important woody notes that are very widely used in fragrances. Their relative importance in fragrance creation unfortunately means that they can sometimes be overlooked in flavor compositions. There is a wide gulf of interwoven misconceptions between flavorists and perfumers. This is a pity, because it is a gulf that exists more in the imagination than in reality.
The key alcohols underlying both notes in nature have a powerful impact but also enjoy exceptional substantivity. This has always been seen as beneficial in fine fragrances because they need to "air off" well on the skin. Flavors, in contrast, have been driven for many decades by much more volatile chemicals, especially those identified in nature by early GC/MS research as key to the identification of the target flavor. Heavier molecules were less well researched.
Regular readers of this column will know full well that I have a love of good wine, especially good wine that has spent a few extra years in bottle. Why does a mature wine taste so good? Part of the story is undoubtedly a natural reduction in the more obvious chemicals, such as isoamyl alcohol, produced during fermentation. Part is also the added complexity from all the slow reactions between the ingredients contributing to flavor. From my point of view the most important gain is the "length" of the wine. This is an attempt to find a name for the lovely lingering aftertaste found in old wines. "Length" is generated in wine by higher molecular weight chemicals, which do possess distinctive odors, but which are more important for their lasting, subtle taste effects.
Cedar and sandalwood notes belong to the same overall woody category. They have different profiles, are not interchangeable, but both add this elusive attribute of "length" to a wide range of flavors.
For the full article, please check out Perfumer & Flavorist's August 2020 issue.