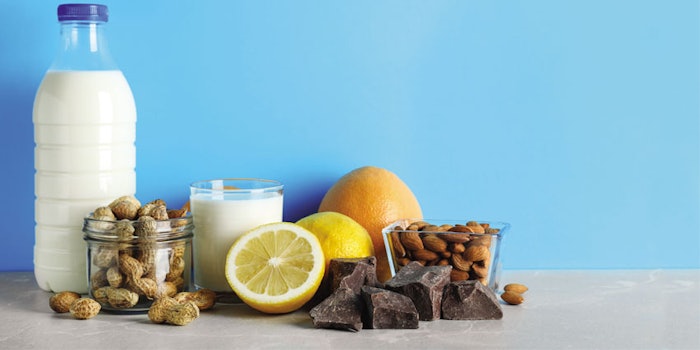 In the past five years, "free-from" products have increased in popularity, especially those with claims related to being allergen-free. The market in gluten-free products alone is expected to reach a CAGR of 9.2% for the period 2020-2027a.
This tendency demonstrates that more people are suffering from food allergies. However, these numbers should be taken with care. On the one hand, these products have become mainstream because consumers, even those who do not have an allergy, consider them healthier than their regular counterparts. On the other hand, scientists who specialize in studying food hypersensitivity face multiple hurdles. Either way, it is a growing concern affecting the entire food industry supply chain. Due to the increasing use of natural flavors, this article hosts a particular focus on extracts.
Allergy, Intolerance and Prevalence
Food allergy is an immune reaction triggered by a protein present in certain foodstuffs, while food intolerance is a non-immunological responseb of the body to a specific food component. Peanut allergy and lactose intolerance are probably the most representative examples.
Many factors, such as age, environment or eating habits can affect the development of an allergy and make it difficult to study the population affected. But the most important factor is probably the lack of a standard methodology: some studies focus on the analysis and quantification of allergen-specific immunoglobulin E (sIgE) or on Skin Prick testing (SPT), others are based on clinical history, self-reporting and even on health insurance claims.1 High costs and high risks for the patient also explain why it is so complicated to obtain a precise picture of the people affected.
References
Loh W, Tang MLK. The Epidemiology of Food Allergy in the Global Context. Int J Environ Res Public Health. 2018 Sep 18;15(9):2043. doi: 10.3390/ijerph15092043. PMID: 30231558; PMCID: PMC6163515.
Footnotes
awww.grandviewresearch.com/press-release/global-gluten-free-products-market
bwww.worldallergy.org/education-and-programs/education/allergic-disease-resource-center/professionals/food-allergy
For the full article, please check out the Perfumer & Flavorist+ August 2021 issue.