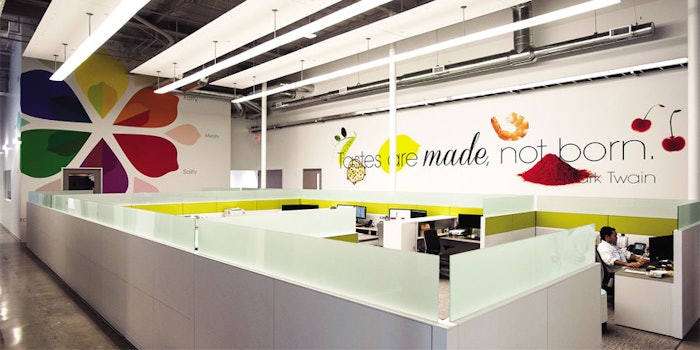 Tokyo, Japan
2020 Sales: ¥50,192 milliona
From developing new flavor formations to expanding company personnel, T. Hasegawa's unwavering focus allowed for consistent growth across platforms. Keeping its finger on the pulse of consumer needs and market trends has led to new technology and opportunities for flavor solutions.
A major launch for the company in the last year is the debut of Boostract, a new natural flavor modifier. The T. Hasegawa team also quickly realigned during the pandemic with new efforts and emphasis placed on growing markets including plant proteins, dairy products, CBD products, beverages and sports nutrition.
T. Hasegawa's passion for flavor innovation led to the acquisition of Mission Flavors & Fragrances, Inc., expanding its reach to the U.S. market and adding to its extensive portfolio. Tapping into the essential needs of the ever-evolving F&F market is the primary point on company's agenda, while also limiting global impact in the process. All of this and more will be touched on in T. Hasegawa's commentary.
aThe fiscal 2020 year ended September 30, 2020
Takao Umino
President and COO, T. Hasegawa Co., Ltd.
Tom Damiano
CEO, T. Hasegawa USA, Inc.
What was your company's biggest business accomplishments in the last year?
Despite the challenges presented by the pandemic, 2020 was a year of growth for T. Hasegawa. Over the past 12 months, we have strengthened our team and capabilities, grown our customer base and even expanded the reach and efficiency of our business with a recent acquisition and new operational facilities.
Our talented team remains the heart of T. Hasegawa and we have expanded our staff over the past year with additional sales personnel, production managers, R&D and customer service. These new positions are a key part of our omnichannel strategy to drive better customer relationships and broaden our world-class flavor development and applications. One of T. Hasegawa's key strengths is interfacing with our customers—our employees are passionate about helping our customers succeed by solving problems, maintaining open communication and becoming a true partner that helps develop effective food and beverage flavor solutions. We continue to invest in ways to empower our team and help build well-coordinated client partnerships that are culturally compatible.
In Q4 last year, T. Hasegawa USA expanded its reach in the U.S. market with the acquisition of Mission Flavors & Fragrances, Inc., in Lake Forest, California. This acquisition leverages existing technical capabilities at both companies to better serve our customers with a broader range of flavors within dairy, bakery, plant-based meat alternatives, fruit-filling and confectionary categories. Mission Flavors is known for its leading chocolate, vanilla and citrus extracts, and we are pleased to add these to our extensive portfolio of flavors. Overall, by combining capabilities and technology from both T. Hasegawa and Mission Flavors, we can provide our customers with the value proposition of total category expertise, expanded flavor options, flavor modulation solutions, organic certified flavors, increased speed-to-market and more.
Later this year, we plan to break ground on a new facility in Rancho Cucamonga, California that will serve as an expanded production workspace. Our current facility in Cerritos, California will continue to serve as our world-class innovation center while we expand our flavor development and applications footprint with additional chemist labs and state-of-the-art equipment.
For the full article, please check out the Perfumer & Flavorist+ July 2021 issue.