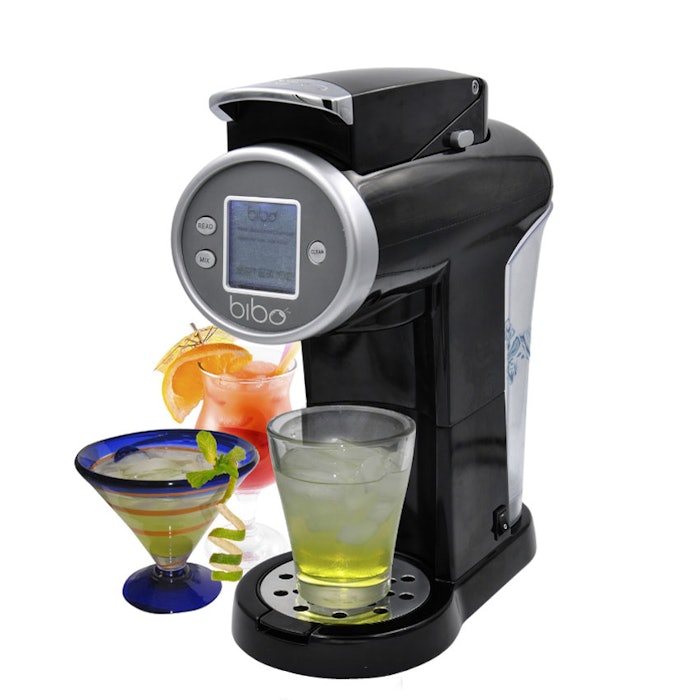 The Bibo Barmaid, a "smart," self-serve cocktail machine, is partnering with Givaudan. The Swiss company will create eight flavors for the machine that creates mixed drinks at the touch of a button. The drink-maker is launching an Indiegogo crowd-funding campaign in order to quicken its emergence into the marketplace.
Bibo Barmaid is a three-part system that includes the Bibo Barmaid countertop appliance, proprietary Bibo Alcohol pouches and Bibo Cocktail Mixer pouches. The Bibo Cocktail Mix pouches include flavors like cucumber melon, tangerine paloma, margarita and appletini. The cocktail machine also provides a shot glass with the purchase of the system.
Givaudan is providing different flavors for Bibo Barmaid to use, including chocolate peppermint martini, rum peach and Malibu Mai Tai. Six more flavors are slated to be released in 2017 with the secured support of Givaudan and other key investors.
"Flavor variety is the name of the game in today's spirits and cocktail market, as consumers are not only looking for unique flavors, but also easy flavor-variety solutions," said Eric Spenske, Givaudan's vice president of marketing.
Debra Walker, creator of Bibo Barmaid and 25-year veteran marketer of Fortune 500 brands, said, "I've hosted and attended many parties where the drinks were either too weak or too strong, and too many open alcohol bottles and mixers made it a mess, resulting in wasted leftovers. During a girlfriend get-together, I realized there had to be a better way to make cocktails. New technologies can make life easier and up the fun-factor. That's what Bibo is all about."