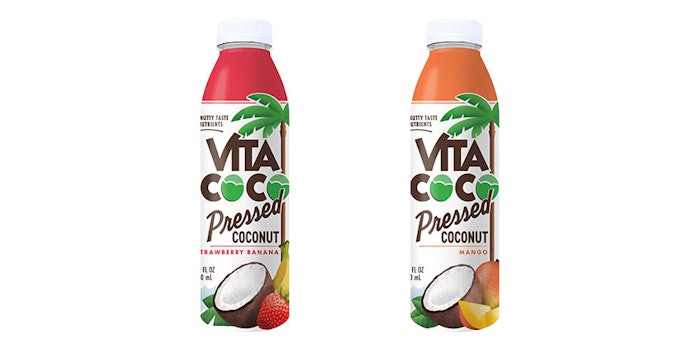 Coconut water brand Vita Coco is expanding its offering of coconut waters by adding two new flavors to its Pressed line—Coconut Mango and Coconut Strawberry Banana. The original Vita Coco Pressed, which launched last year, blends coconut water with fresh pressed coconut, creating a tropical, coconutty taste with coconut water benefits.
Since its launch, Vita Coco Pressed has seen massive success in recruiting new consumers into the coconut water category, with 60% of Pressed sales being incremental to the category. Addressing the biggest barrier to entry for coconut water, taste, Pressed has driven 18% of coconut water dollar growth, contributing more growth than any other brand in totality. 
The new flavors build on the traditional coconut taste of Pressed, with popular fruit-forward flavor profiles. Like all Vita Coco coconut water products, the company claims the new Vita Coco Pressed flavors help replenish electrolytes and provide nutrients to consumers, helping consumers to recharge, recover and stay hydrated without artificial chemicals or scientific formulas. 
"It only took us 15 years to figure out that if we added a little fresh pressed coconut to our coconut water, we could overcome the taste barrier that exists for some consumers," said Michael Kirban, Co-Founder and CEO of Vita Coco. "Our Pressed line is successfully bringing new people to the brand and converting even the most outspoken of coconut water haters. Adding fruit flavors allows us to build on last year's bold launch of Pressed while satisfying even more cravings for delicious, better-for-you beverages."
The new Vita Coco Pressed flavors are available in select retail stores in and will be available on Amazon in May 2020. Vita Coco's original Pressed flavor is currently available online and in most retail outlets in the United States.