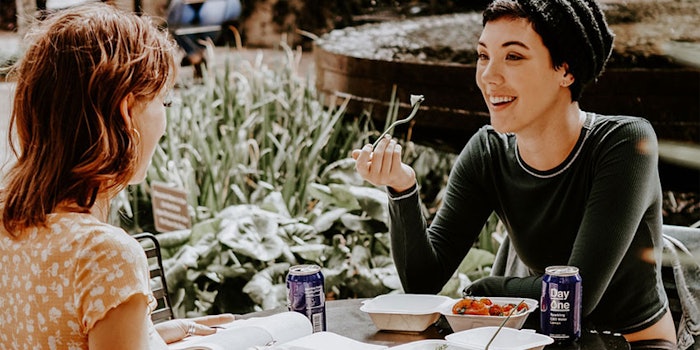 Day One has launched two new flavors in its line of CBD enhanced sparkling waters—grapefruit and lime—building on the success of the original lemon profile.  
Perfumer & Flavorist was able to sit down with Blake Nyman, head of brand at Day One, to talk about  formulating flavors with CBD enhanced products and the newest additions to its flavor lineup.
Perfumer & Flavorist [PF]: Can you give us a little background on Day One?
They officially launched in the market last summer... and so far, we're really excited with how the brand is being received and obviously excited with the formula and the product itself and the potential of the brand. Interesting times right now, but we will all survive and get back to normalcy hopefully here soon.
[PF]: How was the decision made to initiate the line with a lemon flavor?
Blake Nyman [BN]: Consumers love lemon, we love lemon. It has a really high consumer acceptance rate. It's been shown to be one of the more successful flavors in the sparkling water category. Three out of the top ten flavors are some of our flavors within consumer acceptance so really it was more of a strategic play to what's doing well in the category, what are consumers wanting and just aligning with that
[PF]: What has been the consumer response to the initial lemon flavor product?
[BN]: People have been loving it, consumers have been loving it, obviously that's great news to us. It has a very light and refreshing profile which is what we were trying to achieve. We've been getting that same feedback and an overwhelmingly positive response. Of course, I'm biased with my opinion, but I really enjoy it as well. I used to drink some of the other bigger brands and ever since having Day One I highly prefer it even with the CBD, the CBD is obviously an added benefit, but even against some of the bigger, more traditional sparkling waters I think our flavor profile is the best and it has that light refreshing taste and that's the same feedback we're getting from consumers as well, so great news for us.
[PF]: How much of an impact does the presence of CBD have on the flavor creation process?
[BN]: CBD has a really high impact on the flavor process, on the formulation, it's very important in the process. CBD can have a really biter aftertaste so your formulation is critical so we want to make sure that we're providing that light and refreshing product and our formulation was able to achieve that, which can be challenging with CBD. Our formulation allows us to minimize the bitterness, while providing that light and refreshing experience. Some of the other products on the market, not to make it about them, you try some of those and that bitterness is there or then they mask that bitterness with a lot of sweeteners or a more sugary profile, but we feel like we were able to maintain that light and refreshing product while not having that bitterness live in the aftertaste.
[PF]: The new flavors that have recently launched are also in the citrus family (grapefruit and lime), are there specific advantages to using citrus flavors when working with CBD enhanced products?
[BN]: Both. We learned while developing the formula it's easier to have that light refreshing flavor with more citrus based flavors. We are expanding into upcoming additional flavors that still allow us to achieve that light and refreshing taste with masking the bitterness of CBD. But, as you mentioned, lemon, lime and grapefruit, they do have that higher acceptance with consumers, so we wanted to start there and then expand into additional flavors in the future. Consumers are looking for the simple yet effect formulas, and all the biggest brands are basic. So, if you look at a lot of the flavor profiles with the major brands on the market, most of them are typically those very basic flavors, they don't get into the complex flavors with mixing crazy fruits and flavors and scents and ingredients, they try to keep it basic because that's typically what has shown the most success. Just going back to quality and great taste, it can be that simple.
[PF]: What challenges did your company face in developing your product, specifically with regards to flavor?
[BN]: Definitely one of the challenges is masking that taste of the CBD, that bitterness. How can you provide a good flavor, light and refreshing product, masking the bitterness, but then of course as you mentioned, while still maintaining compliance? That's a big thing within CBD right now is our claims: claims from a health standpoint and also claims as to if you're saying you put 20 mgs of CBD in your product is that what the consumer is actually receiving. We pride ourselves on that, we really want to make sure we're delivering what we're claiming we delivered. One thing that's been implemented are COA's (certificates of authenticity), and they're up to standard. So, anytime you get a can you can scan the QR code on the side of the can that will take you to our COA that shows third party test results of the CBD ingredients, it will show this can has what we say is in there. We need to make sure that we're delivering on that and also, back to the flavor profile, making sure that the bitterness isn't in there as well.
[PF]: What other flavors could we see from you in the future?
[BN]: We have two other formulations ready. We don't know when exactly we will launch them, but we have a mango and a watermelon both prepped. We're really happy with how those formulations came out. Again, achieving that light and refreshing, and that quality tasting flavor. So those are queued up and ready to be launched in the future.
Day One's original lemon and new grapefruit and lime CBD enhanced sparkling waters are available online and at select retail locations.