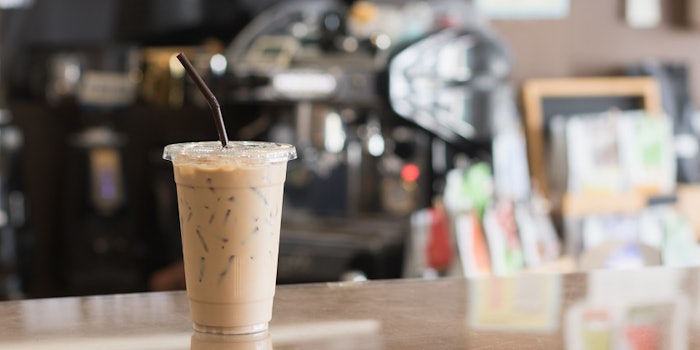 Today, more people are drinking coffee than ever before. According to a National Coffee Association surveya, 64% of Americans drink at least one cup of coffee a day in 2018, up from 62% in 2017. Though more people are indulging in coffee flavors, the standard diner house cup of coffee is becoming a thing of the past. From cold brew to simply cold coffee, consumers are swapping the coffee cup for a convenient and flavorful RTD or cold coffee beverage.
"The essence of RTD products lies in the ability to emulate the coffeehouse experience," said Jeff Nichols, VP of coffee at Flavor & Fragrance Specialties. "Both the Millennial and iGeneration consumers are frequent patrons of coffeehouses which offer a variety of coffee beverages and flavors. A major challenge with RTD products is how to keep up with coffeehouse trends and the ever-changing variety of flavors and products they offer. RTD flavors have the constant pressure to expand beyond the typical profiles of vanilla, caramel and mocha."
Cold and Convenient
One of the largest changes to coffee beverages has been the emergence and proliferation of RTD beverages in a range of flavors and formats. The global RTD coffee market was valued at $9.68 billion in 2018 and is expected to grow at a CAGR of 4.5% between the years until 2023, according to a Research and Markets reportb. One of the largest contributors to its growth is its accessible nature and support by consumer packaged goods (CPG) companies.
Growth in the RTD coffee highlights a larger trend across the category. Consumers are increasingly looking for iced, cold or chilled varieties of coffees. According to the Mintel Global New Products Databasec, 19% of global new coffee launches were iced or RTD, up from 16% in 2015. The U.S. market is the leader in demand for these products with 56% of new RTD coffee launches, an increase from 38% the year prior. Leading the growth in the category has been iGen and Millennial consumers who experiment with coffee flavors and don't adhere to specific coffee drinking rituals – the warm black cup of coffee first thing in the morning. Roughly 68% of U.S. consumers between the ages of 18-34 drink single-serve RTD coffees (bottles or cans), compared to 43% of total U.S. adults.
The largest driver for all coffee purchase remains its flavor. According to a Comax Flavor studyd, 73% of respondents cited it as their number one reason for purchasing a coffee beverage. Of the people surveyed, 64% indulged in decadent coffee flavors like mocha, while seasonal flavors such as pumpkin, spiced and caramel options were consumed by 43% of people surveyed. In addition to these traditional and seasonal coffee flavors, the RTD market has been experimenting with fruity flavors. Normally used in teas, cascara has become more frequent in coffee beverages and often imparts sweet and fruity notes. The ingredient has appeared in products like Starbucks's Cascara Latte, Kona Red's Hawaiian Coffee Fruit Juice and has branched out into RTD teas and sparkling beverage categories.
Creating the Coffeehouse Experience
For the flavorist, RTD and cold coffee beverages provide a unique set of challenges. The usual starting point is developing a descriptive analysis and benchmarking goals, both on the coffee bean base and the target flavor. This will provide the backbone to create a coffee beverage flavor.
"The first step is identifying those flavor attributes that require a level of masking to condition the base to an appropriate level for flavoring. Next is creating a flavor that enhances and complements the coffee base to mimic the barista-created profile," said Nichols. "Every heat process and package, whether it is glass or can, creates a unique set of challenges that must be addressed in the development cycle."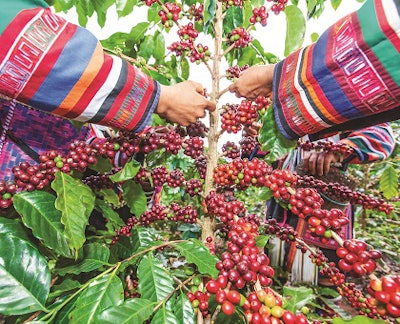 Coffee beans sourcing poses a different set of problems for the larger coffee industry. In Sept. 2018, the price of arabica coffee fell below $1 per pound, a 12-year low.
While an analysis of the desired flavor will provide insight into what chemical components are in the flavor, the benchmarking of the coffee bean used in the base is also crucial. Coffee beans come from all around the world, each variety with its unique chemistry and flavor profile. Having a benchmark of the coffee base will give insight into what needs to be added or subtracted to get the flavor to its target.
When it comes to developing the targeted flavor, the approach will differ based on whether it's for a black or sweetened coffee beverage. Black coffee is the most challenging base to flavor, as it normally lacks any sweetness and creaminess and has a very strong bitter flavor note. This means, for black coffee bases, the flavor must provide not only masking but desired sweetness, creaminess and mouthfeel. Since the flavors are performing multiple tasks, flavor formulations can become quite complex.
Challenges With Natural and Clean Label
Similar to other segments of the food and beverage industry, the RTD and cold coffee segment are experiencing the same kind of demands from consumers – largely a move away from artificially flavored to naturally flavored products.
According to Flavor & Fragrance Specialties statistics, artificial flavors constitute more than 95% of the flavored coffee market. However, in the past year alone, the company has seen more requests for natural flavors than the entire previous decade. This demand for natural provides three distinct barriers and challenges to creating coffee flavors, which include:
Limited tool chest. Due to the inherent challenges in creating coffee flavors, flavorists must have a robust palette to address the different flavor variables of beverages. With natural flavors, the use of essential aroma chemicals is limited. This can impede the ability to replicate market flavors.
Clean labels. As marketers chase the cleaner label, this provides challenges to flavor formulation. In addition to the demand for natural flavors, consumers want products with fewer ingredients and easy-to-read labels. These changes are spurred by consumers who are looking for products that resonate with their health, wellness and ethical viewpoint.
Price point. A typical natural and artificially flavored ground coffee would be approximately $0.35 per pound, with a similar natural option rising to nearly $1.00 per pound.
In addition to challenges with marketing and labels, issues surrounding arabica coffee beans sourcing pose a different set of problems for the larger coffee industry. In Sept. 2018, the price of arabica coffee fell below $1 per pound, a 12-year low. Since most arabica coffee is picked by hand, countries like Colombia saw the cost of production increase beyond the coffee sales price. To provide temporary relief of the price drop, Starbucks invested $20 million to farmers who produce its beane, while Nespresso and Blue Marble Microinsurance piloted a weather insurance program for small coffee farmers in central Colombia in Oct. 2018f. As the RTD and cold coffee markets heat-up, flavor companies and consumer brands will need to continue to invest to ensure quality and raw material supplies.
Related: An Indulgence in Your Cup: Troubleshooting and Innovating Coffee Flavors
Bringing the Heat Back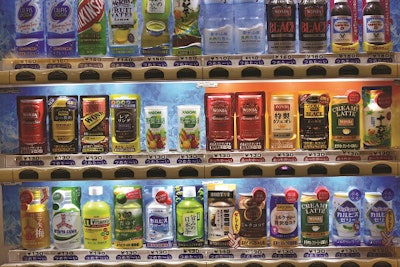 Is heat the next innovation in RTD canned coffee? Popular in Japan since the 1970s, warm canned coffee has emerged in U.S. market with brands like Hotshot.
While natural flavors will continue to grow in demand, so too will unique product formats. One of the newest categories of coffee beverages includes sparkling and soda coffee beverages. A leader in the coffee soda market is Matchless. Capturing the refreshing qualities of soda, the beverage is formulated with non-GMO ingredients and is subtly flavored with orange. Other brands have tried similar citrus brews, Slingshot Coffee Co.'s offers a citrus vanilla cream soda coffee and Keeper has a citrus coffee soda. In the cold brew segment, Stumptown offers its sparkling coffee beverage in original, honey lemon and ginger citrus flavors, while Chameleon Cold Brew offers its beverages in black, ginger, citrus and spiced vanilla flavors.
In an ironic turn, canned coffee is slowly embracing its warm side. Popular in Japan, heated RTD canned coffee has only recently made the move to the west. In 1972, Japanese Pokka Coffee introduced a hot and cold drink vending machine, which allowed consumers to enjoy their beverage warm or cold.1 In the United States, Hotshot is attempting to bring the warm side of RTD coffee to conference rooms and offices through its line of products. Available in black coffee, French vanilla and hot chocolate, the coffee is heated in a "hot fridge," which keeps the beverage warm until you are ready to drink. This provides an additional challenge to flavor creation as the product starts off in a room temperature state and then heated before consuming.
A Flavorful Future
"According to our custom research, 86% of Millennials like to experiment with new flavors for coffee. In addition, many have taken matters into their own hands with coffee products for the at home/office setting. These drinkers regularly perform what I call 'coffee flavor blending,'" said Nichols. "They engage in exploration of new flavor options beyond what is readily available in these settings by combining flavored coffee with flavored creamers to create their own unique profiles. Each of these new product forms creates more coffee awareness and ultimately opens up new pathways to increase flavored coffee sales."
Whether it comes in a can or purchased at a coffeehouse, the idea of the morning "cup of coffee" has evolved. As younger consumers embrace more flavorful options, the flavor expectation has moved from the diner's cup of black coffee to the coffeehouse creations with the added whipped cream, bits of salted caramel and keen attention to presentation. As the younger generation leads the demand for flavorful coffee beverages, they might also stumble upon the next big taste trend.