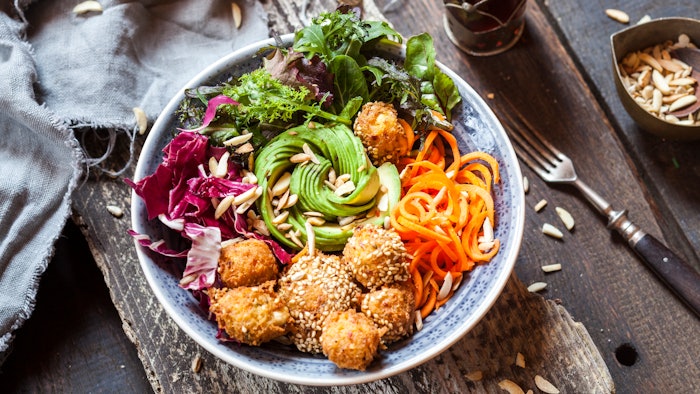 C/O Symrise
Symrise announces the combining of flavorings and natural ingredients portfolios with the design of a joint food and beverage competence.
Related: Symrise Reports Q3 2022 Results
Following the consolidation of its Taste, Nutrition & Health segment earlier this year, Symrise has restructured its food and beverages offer, combining it into one joint competence. This unites its flavor house tradition with the natural ingredients' expertise of Diana Food and the skills of IDF in backward-integrated chicken solutions.

To address the trend of good-for-you products, Symrise has structured its offering into one Taste, Nutrition & Health (TN&H) segment. It now focuses on a joint portfolio with multiple benefits. It includes state-of-the-art solutions that taste great and come from responsibly sourced ingredients. At the same time, they bring nutritional value supporting a well-balanced diet. Also, the portfolio includes products with specific active components for relevant health benefits.
Jean-Yves Parisot, Ph.D., president, TB&H, states, "Our unique offering comes from the combination of our expertise in taste, nutrition and health. We already apply these three types of know-how at different levels of maturity with our customers. Now, we will reinforce each of them. Value for customers and consumers comes from expertise itself and extra value will come from their relative combination."
To achieve this, TN&H also formed a Business Incubation Group (BIG) that brings together new ideas and solutions for the future of foods and beverages. This internal incubation structure accelerates present developments and lays the groundwork for the future. It also puts circular economy for major raw material sources into the center of its activities. The TN&H segment is designed to identify by-products and side-streams potentials in and for its supply chain.

Within TN&H, the Symrise Food & Beverage Division is designed to supply flavor solutions with individual tonalities, differentiated ingredients with food declarations and complete solutions for use in final products. This includes its code of nature platform with its broad portfolio of natural solutions: Natural raw materials ranging from vanilla extracts to vegetable juice concentrates, fruit powders and flakes to chicken broth and pieces, as well as natural flavoring options.

The joint portfolio is said to serve the following variety of application areas: culinary products, beverages, snacks, dairy and sweet products, baby food and consumer health solutions.
The customer offer includes key tonalities such as chicken, beef, vegetables (onion, carrot, mushroom, etc.), fruit (incl. a unique palette of citrus materials for beverage and sweet applications as well as banana meeting the high standards of baby food), vanilla and further botanicals—as well as the inclusion of dairy and brown notes.
Regine Lueghausen, Food & Beverage VP Global Marketing, Symrise, shared, "Our solutions help improve the nutritional profile of consumer products by adding functional ingredients, such as classic proteins, and fibers. We also support manufacturers in removing less desirable ingredients like sugar, sodium or fat while making these good-for-you products taste great."
Symrise Food & Beverage created a Naturals Business Unit to centralize its natural ingredients expertise. The BU expertise includes sourcing with purpose, agronomy, risk management as well as gentle processing and a responsible production approach, including "full stream valorization."
The division provides standardized active compounds said to allow the development of health-specific supplements, as well as flavor and masking solutions for pharmaceuticals and OTC medicines.
Nathalie Richer, global health business leader of Symrise Food & Beverage, Naturals, stated, "Consumers today take greater responsibility for their health than ever. Their demand for efficacy and naturalness continues to drive innovation, as does the spotlight on holistic well-being." 
Want to know everything going on in flavor & fragrance? Sign up for P&F+'s newsletter. You can also follow along on Instagram and LinkedIn.