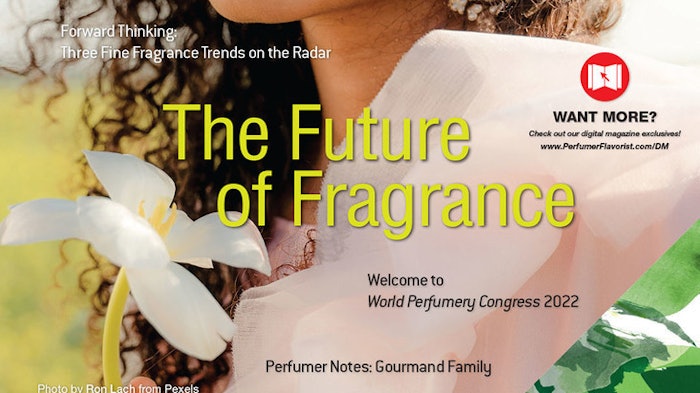 The June issue not only dives into the latest in fragrance, but it also marks the return of the World Perfumery Congress (WPC). If you haven't secured your ticket yet, don't worry, there's still time to register by visiting worldperfumerycongress.com. Here's a preview of what's inside this month's issue:
Talking Fragrance Trends, Tech and Formulation
Product Roundup featuring ingredients and equipment from BASF, Solvay, Firmenich, Millipore Sigma, Mane, Natural Advantage, Mamta Polycoats, Symrise, ACS International, Hangzhou Grascent Co., Ltd, OAMIC Ingredients USA, Ventós and Agrumaria Reggina.
Profile with G.Mariani & C. Spa flavorist, Mario Fabretti
Looking Back: Vince Kuczinski Recalls His Fragrance Journey
Flavor Bites: 2,5-Dimethyl 4-ethoxy 3(2H)-furanone with John Wright
Forward Thinking: Three Fine Fragrance Trends on the Radar with Trendincite's Amy Marks-McGee
Amouage CEO Discusses Fragrance Market
Forgotten Perfumery Plants: Fragrance Revelation For Innovation
Transcendent Taste: Introducing Flavorcon 2022
Perfumer Notes: Gourmand Family by Agilex perfumer, Neha Okhade
Lighter Libations: The Latest In Non-Alcoholic Beverage Flavor Trends with Doug, Resh director, commercial marketing, T. Hasegawa USA
Welcome to World Perfumery Congress 2022
Organoleptic Characteristics of Flavor Materials with Bell Flavors & Fragrances' Cyndie Lipka
Want to know everything going on in flavor & fragrance? Sign up for P&F+'s newsletter. You can also follow along on Instagram and LinkedIn.