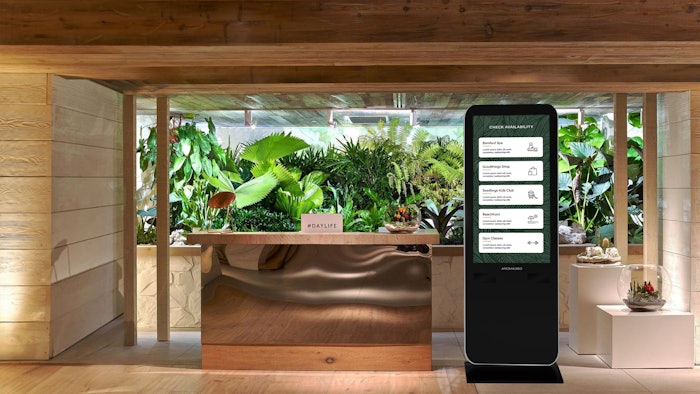 PR NEWSWIRE
Aroma360, scent marketing and scent branding company, has announced the launch of its newly developed marketing solution for businesses via the Interactive Scenting Kiosk (ISK), a free-standing LCD display with embedded essential oil diffusers.
Related: Euromonitor Investigates Digital Engagement in Fragrances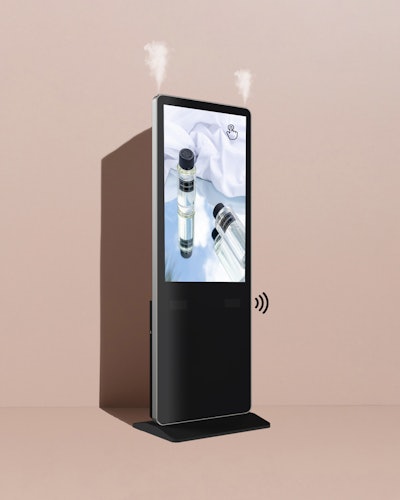 The ISK is a multisensory device designed to disperse a business' custom-curated scent with the ability to digitally advertise on a 43" touchscreen LCD display. It is said to combine the traditional elements of visual advertising, interactive e-commerce and the science of scent to influence customer purchasing behavior, and time spent in-store while increasing brand loyalty.
Businesses can disperse their signature Aroma360 fragrance oil from two spray caps within the ISK, covering up to 4,000 square feet. The spray uses cold air diffusion technology which transforms the fragrance oil into very fine, dry nanoparticles for more consistent coverage and no residue. Scent diffusion can also be programmed on a timer to disperse different scents at different times, either directly from the ISK itself, or via a mobile app. The ISK contains built-in speakers allowing consumers to watch videos and explore product offerings. 
Nadira Persaud, chief marketing officer, Aroma360, shared in a PR Newswire release, "Diffusing a signature scent through the ISK can increase the intent to purchase by over 80 percent, making a scenting strategy a smart marketing tactic for businesses. The ISK's design allows it to be placed in strategic locations, such as a high-traffic entryway, so you are better able to intersect with your customers and influence them both through the interactive display and scent dispersion. The ISK puts your branding where customers may not normally get to experience it."
Want to know everything going on in flavor & fragrance? Sign up for P&F+'s newsletter. You can also follow along on Instagram and LinkedIn.