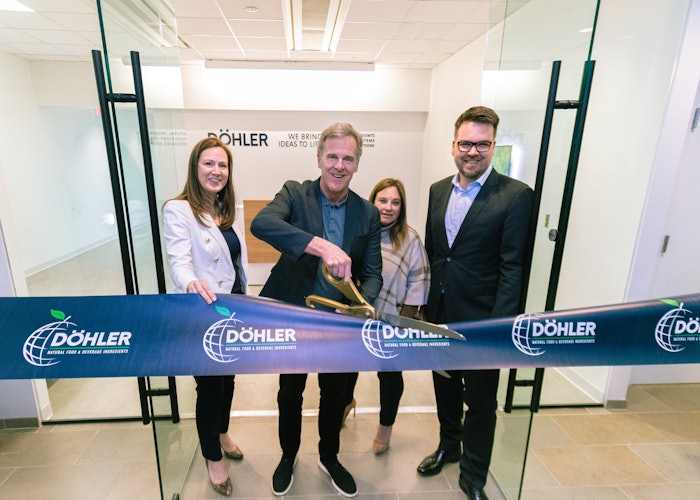 courtesy of Doehler
Doehler has debuted its office and lab hub in North Brunswick, New Jersey, with a ribbon-cutting ceremony hosted on April 26, 2023. The recently inaugurated facility is said to be a state-of-the-art center for taste with a focus on flavor and taste modulation innovation. The North Brunswick location marks Doehler's fourth location in the United States.
Doehler's North Brunswick hub will offer more than 12,000 square feet of laboratory space including a flavor analytics laboratory equipped with both volatile and non-volatile capabilities, as well as a functional extraction laboratory.
The site will also act as an east coast hub for Doehler Ventures, which supports early-stage start-ups, currently located in Los Angeles, California. In addition, it will scale up the global strategic partnership of Doehler and Ixora Scientific, a San Diego-based start-up that focuses on the research and development of innovative taste modulators based on botanicals. 
Doehler has shared plans to utilize ultramodern sampling technology within the North Brunswick location. The company has also announced plans to expand its Cartersville plant to include an automated flavor production facility and bring additional capacity, customer-facing meeting spaces and administrative offices.
Deborah Kennison, R&D vice president at Doehler in North America, expressed, "We are thrilled to share that Doehler's North Brunswick hub is featuring in-house sensory screening capabilities with expert panels. This, combined with the expertise of our global sensory team allows us to provide our customers with lab to industrial-scale solutions spanning the entire spectrum from flavor, functional ingredients and foodstuff to finished products with advantaged economics." 
Paul Graham, Cluster Americas CEO at Doehler, stated,  "Our investment in the North Brunswick hub reflects our commitment to meeting the evolving needs of the US food and beverage industry. We feel that Doehler is well positioned to help our customers stay ahead of the curve in a rapidly changing market,"