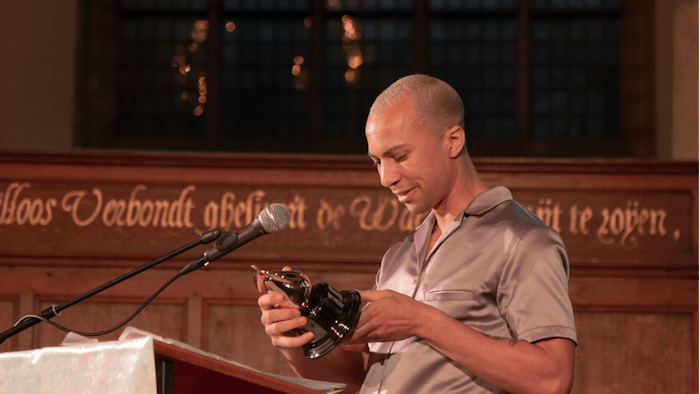 The American Society of Perfumers (ASP) along with Allured Business Media, is pleased to announce an exciting change at this year's World Perfumery Congress (WPC)–a first-time awards collaboration bringing together leaders from three different facets of perfumery. 
Related: Quintis Announces Sandalwood Reimagined Competition Finalists
The July 1, 2022, event titled, "An Evening of Fragrance Excellence," will bring an innovative close to the conference in Miami, Florida. The much-anticipated affair will feature award presentations by the ASP, Quintis Sandalwood, and The Institute for Art and Olfaction (IAO), together on one stage.
ASP president, Vincent Kuczinski explains, "In the spirit of collaboration, the American Society of Perfumers has teamed up with the Institute for Art and Olfaction and Quintis to present awards to perfumers from across the globe at the World Perfumery Congress.
We felt it was the perfect occasion to stand on one stage together to honor both our individual and common missions. Creating fragrances begins with an artistic inspiration and we're pleased to celebrate this together with the IAO and Quintis."
Every two years at the WPC, the ASP bestows two traditional awards upon their worthy recipients. The Lifetime Achievement Award is presented to a perfumer who has excelled in perfumery, producing influential, classic, or legendary fragrances known throughout the world. The William Lambert Award is granted to one who has gone above and beyond, displaying dedication and commitment to the excellence and artistry of perfumery.
Next up, the winners of the Quintis Sandalwood Reimagined competition will be announced. Quintis partnered with the ASP to facilitate and judge this innovative contest challenging entrants to formulate a reinterpretation of the classic Indian sandalwood.
Vanessa Ligovich, chief marketing officer, Quintis Sandalwood said, "The American Society of Perfumers' mission is to uphold and promote high standards of perfumery. We are thrilled to be partnering with them on this competition, which celebrates the art of perfumery and an ancient, prized ingredient, that has a long-established and fascinating history in the art of perfumery."
Following strict management practices Quintis, leading producer of sustainably cultivated Indian sandalwood (Santalum album), has rescued Indian sandalwood from the brink of extinction, securing its future for generations to come.
Finally, for its 8th Art and Olfaction Awards, the IAO will confer a series of awards honoring perfumers from artisanal, independent and experimental categories.
Saskia Wilson-Brown, IAO director and founder stated, "I am excited to present the 8th Art and Olfaction Awards at the World Perfumery Congress, presented by American Society of Perfumers. It is my firm belief that this collaboration marks an important step in creating better connections between different segments of the perfume industry, highlighting the creative impulse that drives perfumery as a whole."
"An Evening of Fragrance Excellence" will be held in the Lincoln Ballroom at the Miami Convention Center beginning promptly at 5 p.m. on July 1 and promises to be a memorable celebration for all. A brief reception will be held afterward. More details to follow.