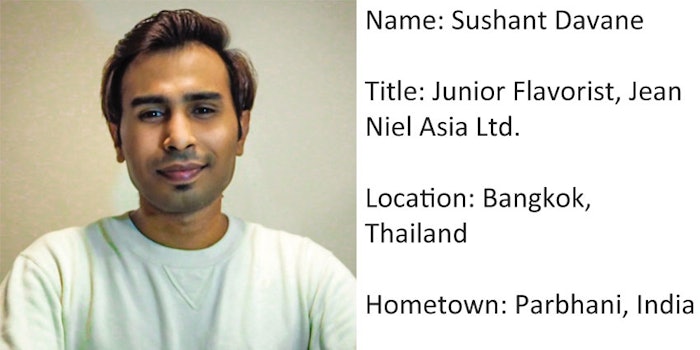 P&F+: What led you to the flavor industry?
Sushant Davane [SD]: Credit for inspiration goes to my beloved father, and hometown, as well. Growing up in a city with the esteemed Agriculture University of India (the same place where my father used to work), with the underlined motto "agriculture is the foundation of life," it came naturally to pursue a bachelors degree in food technology which ultimately ignited my hunger for knowledge and desire to cater the largest sought-after industry by specializing in flavor technology.
Since then, I began a lifelong research relationship with flavor creations and started strengthening my sight for practical understanding and scientific problem solving. I love how my skills and passion for creations connected the right dots towards where I wanted to be. Honestly, I'm satisfied about my calling, my métier.
P&F+: Do you have any advice for people coming into the flavor field?
SD: Classic things often collectively consist of small learnings: the building blocks. Maneuvers for creation are very crucial and surely come from the timely upgrade of knowledge from projects, tasks, books, websites and journals. Introspection, readiness in sharing and grasping knowledge will create room for improvement every time. Of course, discipline and zeal are must-haves, but also patience, along with gratitude, will add magic to the personality.
One of the keys is to never hesitate to share skills and knowledge, for it stalls the extension. Finding opportunity out of failure, aligning with the senses of people within the team and developing better understanding of the constant flavor trends lead to winning goals. Developing awareness of the food industry would always be a complementary skill to the flavorist role. In addition, nurturing creativity is achievable when we don't let the child inside us die, but instead letting it roam wild and free.
P&F+: What is the best part of your job?
SD: Curiosity, creativity and liveliness is my recipe. The journey of working towards finding answers to curious and strange questions; interacting with the team and customers; enjoying versatile food and drinks all make me feel so lively. Factually, I respect how it fuels fervor in every aspect. It widens the mind's frame and adaptability, as well. Love for travel, adventure, knowing varied cultures and food palates has also contributed to my professional and personal upbringing.
I have noticed that nothing makes me more comfortable than being in a creative zone, bridging technical gaps and contributing to the overall business. I believe if one could see from the lens of a flavorist, these parameters could be alike. Food becomes the common language when meeting family or friends, whereas its flavor becomes the form of expression.
P&F+: Are the types of projects you're working on changing over time? How are the creative demands of the job evolving?
SD: Creativity is part and parcel of this industry, and with every new task it seems to be an upgraded version of the previous one. Putting on a brave front while conversing on insights, clarity, demands and requirements build greater relationships. It is universal now that consumer behavior has evolved; parameters of sizing up have modified. Selection of products is not just limited to aroma and taste, but more importantly, linked to mindful consumption, emotions and moods, as well. Something that is etched to their memory.
Especially given the current global COVID-19 climate, consumers prefer food and drinks that connect them to their people, comfort zone and warmth. Thus, creating flavors and implementing them in products is like an emotional investment. There is a vicious cycle of flavor trends, old becomes new and new becomes old.
P&F+: Describe yourself in three ingredients.
SD: I assert β-damascenone, menthol and black pepper oil.
β-Damascenone pours out all its character and adds to the attractiveness of the flavor, while boosting its heart note. One can always count on this ingredient whenever that nitty-gritty aspect is needed in a flavor.
Menthol, the exceptionally unique chemical, is one of the best things nature can offer to mankind. Its lingering mentholic, cooling note in the throat and mouth calms and refreshes both body and mind, thus making it exceptionally unique, and functional, too. It fantastically carries notes on its back by making flavor more flavorful.
The very crisp, terpene-like, spicy and woody profile of black pepper oil is indelible. It functions perfectly in delivering the very extreme and vibrant experiences when put into use intelligently. I sincerely love its aspect of adding warmth to the lone concepts.