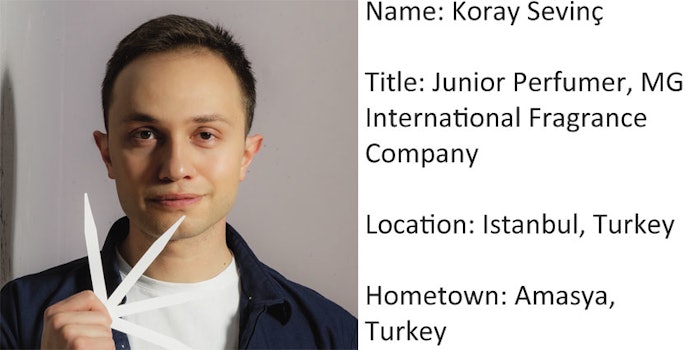 Perfumer & Flavorist+ [P&F+]: What led you to the fragrance industry?
Koray Sevinç [KS]: I have always loved smelling everything around me. I have many strong memories of scents that have been part of my life, such as my grandfather's garden full of fruit trees, flowers and various vegetables that gave me the most unforgettable olfactive memories on my olfactory journey. I've always had a passion for perfume because smelling was a pleasure for me. I decided that I want to be perfumer and it was my biggest dream.
P&F+: Are there any recent projects/wins you're particularly proud of?
KS: I used to dream of the smell that spread into the air when the sea waves hit the cliffs with the wind. I wanted to create this atmosphere as a fragrance for my own pleasure. The formula cost was quite expensive because I used a high dose of vetiver oil, which corresponds to almost 30% of the formula. I caught a unique chord by using rosemary oil, lavender absolute, oakmoss absolute, ambergris, incense oil and earthy-ozonic notes along with vetiver oil. The result was loved by one of our customers so much so that they decided to put it in the collection. It was an honor for me.
P&F+: Describe yourself in three ingredients.
KS: It's really hard for me to describe myself but if I had to choose three ingredients, they would be vetiver, patchouli and tuberose. Vetiver and patchouli represent my deep connection with the nature. They are green, earthy and full of mystery. The last one would be tuberose because it's very colorful in its character. Although tuberose is fresh, bright and green at times, it is somehow dark and mystical. This is how I can explain the irony in myself.
P&F+: What is the best part of your job?
KS: The interesting part of our work is that there is unlimited creativity that keeps you quite dynamic. It's also very exciting.