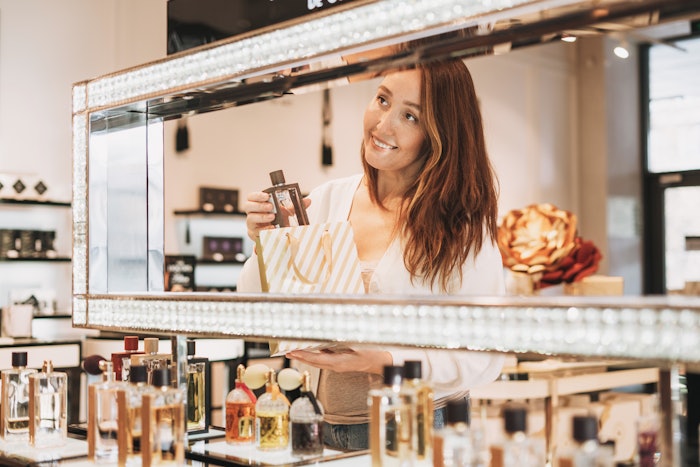 DREAMSTIME
According to an article by NPD, "Fragrance is the Gift that Lasts, Long After Valentine's Day," by director, fragrance category analyst, Jacquelyn Wenskus, the U.S. prestige fragrance market is projected to encounter positive sales performance heading into Valentine's Day 2023. In 2022, prestige fragrance sales in the two weeks leading up to Valentine's Day reached nearly $270 million, growing by 24% versus 2021. The market continued this trajectory for the remainder of 2022, ending the year with sales up 11% and the category is already boasting double-digit growth during the opening weeks of 2023. 
Trends Driving Sales
1. As we saw during the holiday season last year, consumers became more likely to buy fragrance gift sets. Aside from being a nice gift choice, sets typically offer great value, making them an attractive option. Retailers are already in full swing when it comes to showcasing gift sets from top brands on their displays. 
2. Consumers gravitate more and more to higher concentrations, which are stronger and longer lasting. The higher price tags on these types of products will serve to amplify sales revenue growth. 
Where Consumers are Shopping
Last year, brick-and-mortar stores accounted for 80% of fragrance sales revenue for Valentine's Day, NPD predicts that this channel will continue to be most important in the week ahead. According to the report, department stores account for the largest share of sales, but consumers have been increasingly opting to purchase fragrances at beauty specialty retailers.