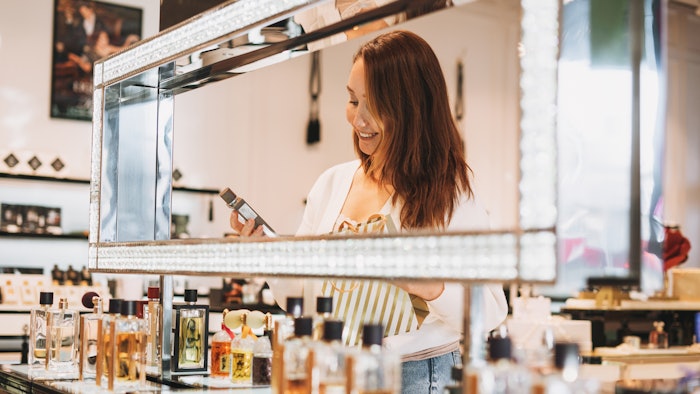 DREAMSTIME
The holiday season inspires consumers' buying habits. Whether purchasing for a loved one or for themselves, 2021 showed a major uptick (up 25% compared to 2020) in sales, and according to a recent article by Kline, the market is poised again for a strong showing this holiday season. 
Leah Wisniewski, Kline analyst for the company's Consumer segment, comments, "Fragrances have always been a staple this time of year, driving consumers to malls and shopping centers to purchase perfume, cologne, and home scents." 
Within the article, Wisniewski shared that while limited-edition scents and festive packaging are important elements that continue to drive consumers to buy fragrances during the holiday months, they also outlined several new dynamics emerging this holiday season.
The first of the emerging trends is the ramp-up of digital marketing efforts. This focus on e-commerce was further echoed in Euromonitor's "Revamping Digital Engagement in Fragrances" report.
The second is due to new players in the game, like beauty brands, throwing their hats in the ring has further diversified the selection for consumers by adding home fragrance offerings and fine fragrance products. 
A resurgence in '90s scent trends is apparent in recent fragrance launches due to consumer demand. The report reads, "With Gen Z coming of age, brands are ushering in nostalgia for long-gone Y2K era trends like low-rise jeans and mini shoulder bags. In addition, vanilla fragrance, which hit peak popularity in the early aughts, is having a renaissance as Gen Z enters the workforce and gains more buying power."
The final note for an emerging trend driving fragrance sales this holiday season is that department stores are creating more shelf space for niche brands. Whether it be online or in-store, department stores are broadening their selection.