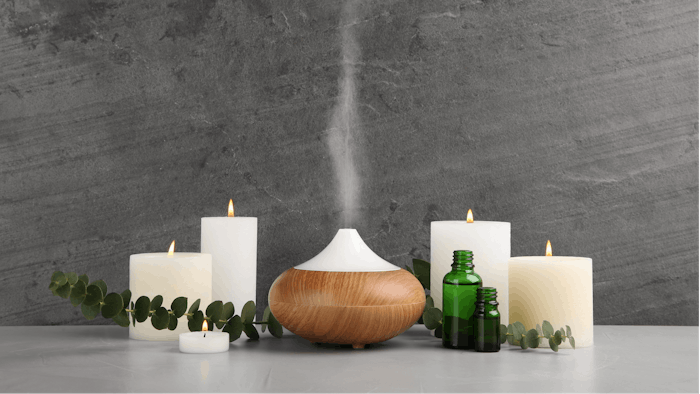 A report from Research and Markets on the aromatherapy diffuser market projects it to grow at a 7.98% CAGR through 2026. The popularity of essential oils and increased awareness of a healthy lifestyle are some market drivers identified in the report.
Related: Olfactory Aromatherapy vs. COVID-19: A Systematic Review
The rising awareness of the various benefits of aromatherapy for stress, depression and anxiety relief is expected to drive demand for various types of diffusers. Essential oils have no direct side effects when inhaled through diffusers unless consumed orally or applied directly to the skin—a significant growth factor for the market, per the report.
The report indicates that demand for essential oils in the United States has been inflating yearly, and a significant share of essential oils produced and imported goes into the aromatherapy market. The most popular essential oil imported into the United States is lemon oil, followed by orange oil, peppermint oil, tea tree oil and eucalyptus oil.
Natural fragrances will be in further demand with increased awareness of the health effects associated with synthetic chemicals. Aromatherapy diffusers are one of the safest techniques for the consumption of essential oils, which may boost the revenue of the diffuser market in the coming years, per the report. Ultrasonic aromatherapy diffusers are anticipated to dominate the overall market over the forecast period and nebulizers are expected to be the fastest-growing product segment.
The aromatherapy diffuser market is highly competitive. Market leaders include dōTERRA, Edens Garden and Puzhen Life. High industrialization and urbanization rates in India, China, Mexico and Brazil have led to a greater demand for aromatics and fragrance therapies. There is a rising interest in spa treatments in South America, which should contribute to the diffuser market.
Want to know everything going on in flavor & fragrance? Sign up for P&F+'s newsletter. You can also follow along on Instagram and LinkedIn.