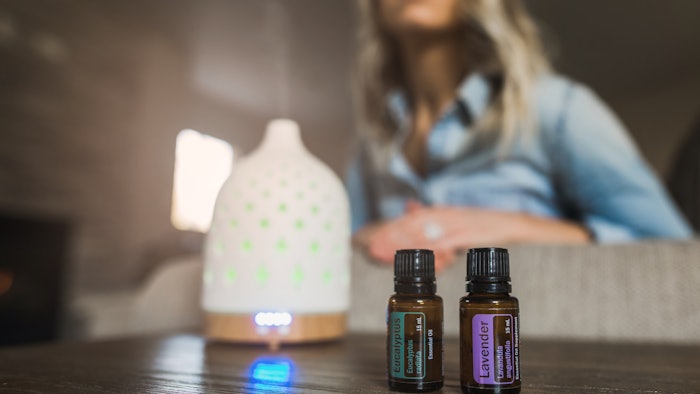 A recently published book by Ahmed Al-Harrasi and Saurabh Bhatia, Ph.D., titled Role of Essential Oils in the Management of COVID-19 cites olfactory aromatherapy (OA) as an alternative treatment to respiratory disease and psychological unrest, particularly against COVID-19.
Related: Report: IFRA UK Launches Changing Lives Through Fragrance Initiative
The text details the primary site of action for OA is olfactory nerves and lunges where these aromatic molecules interact and exert their positive effects. OA has been used to combat various respiratory infections by suppressing inflammation and stimulating the immune system, as well as abating psychological symptoms.
While the benefits of OA make it a suitable approach to treating COVID-19, blending essential oils to exert these effects requires a better understanding of their chemistry, toxicity, therapeutic potential and aromatic properties. The book aims to elaborate strategies to effectively manage mental and physical health by using OA in the COVID-19 pandemic.
Professor Ahmed Al-Harrasi is vice-chancellor of Graduate Studies, Research and External Relations, Natural and Medical Sciences Research Center, and professor of Organic Chemistry, University of Nizwa, Oman. He received his M.Sc. degree in chemistry followed by his Ph.D. in organic chemistry from the University of Berlin and went on to found the Natural and Medical Sciences Research Center and co-authored more than 400 scientific papers.
Saurabh Bhatia, Ph.D., graduated from Kurukshetra University, followed by postgraduation from Bharati Vidyapeeth University. He received his Ph.D. in pharmaceutical technology at Jadavpur University. He is currently an associate professor at Natural and Medical Sciences Research Center and has authored 75 articles and 9 books.
Want to know everything going on in flavor & fragrance? Sign up for P&F+'s newsletter. You can also follow along on Instagram and LinkedIn.