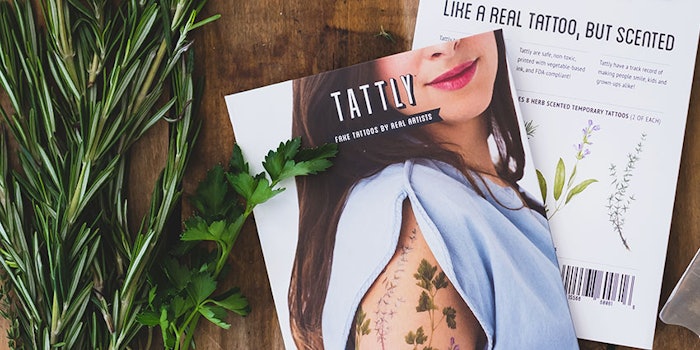 Fine fragrance is a staple in the F&F industry, but innovative applications are entering the scene for a fresh and novel approach to fragrance.
Tattoos
Tattly paired floral and botanical watercolor designs with corresponding fragrances by Agilex Fragrances for a twist on temporary tattoos. Designs are vibrant and trendy, while adding subtle wafts of fragrance for fleeting fun before tattoos wear off after a few days. The line includes artwork of peonies, roses, hydrangeas, rosemary and thyme, with notes of ylang ylang, pink poppies, Italian bergamot, sage, white musk and clear sandalwood, depending on the design.
Hair Fragrance
Hair mists add a subtle fragrance throughout the day. These applications are typically quite light, in order to keep hair from being weighed down by the additional product. Kerasilk's line of these hair perfumes includes the Repower option, with notes of freesia and lily.
Powder
Fine, scented powders meant to be dusted on (and sometimes already housed in brush dispensers, like Byredo's) add a luxurious touch to fragrance routines. Byredo's powder formulations come in already-popular scents, but for a lower price to appeal to a wider range of consumers.
Wipes
Brands such as Pinrose have released fragrance towelettes, packaged individually and designed for travel. The brand offers packs of single applications in various scents for consumers to play around with their fragrance instead of investing in a costlier bottle of the same scent.