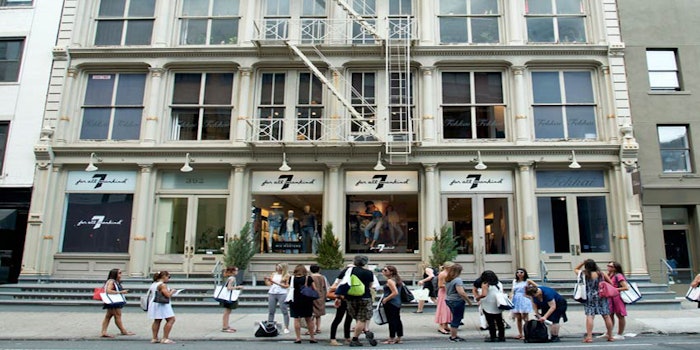 By Christina Neuner of LBrands
Click here to view trend excursion photos by Dan D'Errico.
On June 13, 2017, the WFFC gathered for the 10th Annual Fragrance and Flavor Sensory Trend Excursion in New York City! SoHo and Nolita were the trendy neighborhoods chosen for our day of inspirational trend hunting. The heat wave did not deter our enthusiasm as we assembled in front of Ladurée, the French Luxury bakery and tearoom, at its outpost at 398 West Broadway. For the day's jaunt, our hosts, Amy Marks-McGee (Trendincite LLC) and Jeanine Pedersen (Trend Professional) handed us our official tour guide brochures and a gift bag with fantastic goodies from WFFC's sponsors, which included a Comax Flavors canvas tote bag, a Rosé inspired fine fragrance by Kelly & Jones, a Costello Creative Group notebook, a Trendincite LLC coaster, and a WFFC pen and blotter clip.
Our first sensory experience of the day began with a Ladurée macaron tasting of three signature flavors: Orange Blossom, Rose and Blackcurrant Chocolate. The group strolled in high spirits through the heat of downtown Manhattan's streets to our next stop Byredo, a Stockholm-based luxury fragrance, personal care and leather fashion accessory store located at 62 Wooster Street.
Designed by Byredo's founder and creative director, Ben Gorham and Swedish architect and designer, Christian Halleröd, the space inside featured traditional woodwork, Italian terrazzo floors and Canadian Douglas Fir ceiling beams. Blake, Katie, and Suzanne of the boutique graciously guided our sensory journey as we sampled and smelled many unique scents such as Rose of No Man's Land, Mojave Ghost, Black Saffron and their famous scent, Bibliothèque, which was originally a candle that was so well-liked it was translated into a limited edition parfum.
The group experimented with Byredo's new Kabuki Perfumes, which are perfumed powders packaged in a retractable brush, in three scents: Bal d'Afrique, Blanche and Gypsy Water. Exhilarated, we moved through the sunny streets to our next stop, Follain, which is Gaelic for "healthy, wholesome and sound," at 109 Mercer Street. To our surprise, we discovered it was the pop-up shop's last day in this location with plans to relocate in New York City. Attendees explored the myriad of "non-toxic" naturally sourced personal care, face, body, and wellness treatments, all displayed by product application. We rinsed our hands in a variety of soaps and products in a beautiful old vintage enameled dual-spout sink.
Our next stop was T2, the Australian tea shop at 67 Prince Street. We were greeted with endless samples of refreshing iced and hot tea such as lemon, hibiscus, coconut pineapple and matcha. The store featured brightly colored boxes of tea from floor to ceiling with open boxes piled high with the different tea varieties and blends for customers to see, touch, feel and smell. There was something for everyone, with over 200 tea varieties, plus a large selection of matcha whisks, tea pots, cups, brewers and every supply the tea-loving enthusiast could want.
Our fun-loving group then made our way to Miss Paradis (47 Prince Street) for lunch where some of the most enormous bottles of rosé wine we had ever seen were displayed on ice in the windows. The restaurant is run by French restaurateur Claude Louzon and his daughter Julie and focuses on seasonal ingredients, vegetables and healthy Mediterranean-influenced dishes. In collaboration with the famously idiosyncratic architect Philippe Starck, the restaurant was built from the ground up on the site of a former parking lot and highlights modern, artistic and eclectic decor.
Our menu selections that day included a Rose Paradis smoothie (strawberry and banana), a refreshing fresh pressed orange, carrot, and ginger juice or a lemon & mint lemonade; savory and fragrant roasted cauliflower, delicious roasted caramelized brussels sprouts, or an intriguing fresh-baked, jet-black bread made with activated charcoal and seal salt; quinoa and grilled avocado salad, Miss Paradis Nicoise salad with homemade preserved tuna and smoked paprika or Miss Paradis fish & chips made with crunchy codfish tempura. Filled with delicious food, we headed back out into the sultry New York afternoon and paused for photographer Dan D'Errico to snap the traditional Trend Excursion group photograph, before strolling to our final stop of the day, Stick With Me Sweets at 202 Mott Street.
Home of exquisite and refined artisanal chocolates, this tiny shop could only accommodate four of our group at a time. The rest of the group waited their turn, perusing the illustrated leaflet, preparing to make their selections. It was worth the wait, each of us getting to choose a dainty and artistic hard-shelled bonbon, with flavors as familiar as malted milk chocolate and sea salt caramel, to more unusual selections such as yuzu, black sesame passion fruit, matcha, macadamia rice puff and the "mystery edition" flavor!
The 10th annual WFFC Trend Excursion thus came to a close, with the general consensus of those who had attended excursions in previous years, that this was one for the books yet again!