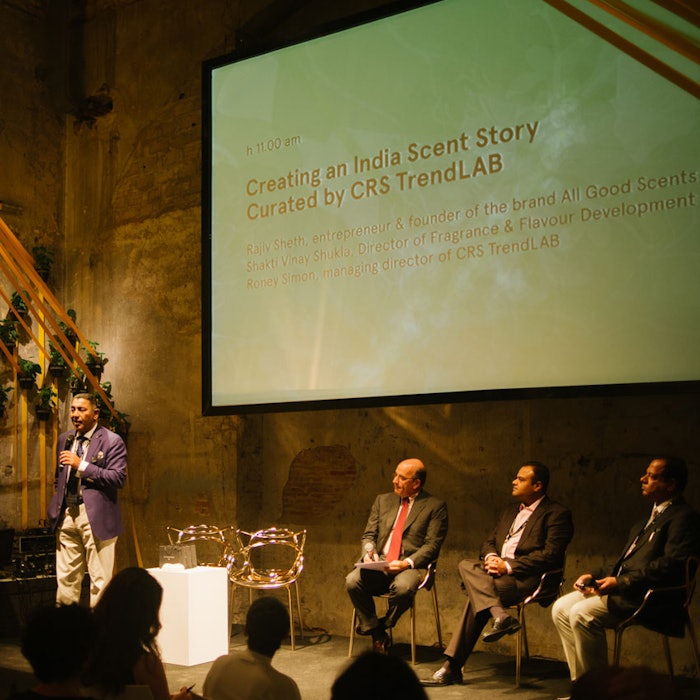 Earlier in September, Fragranze held its international fragrance conference in Florence, Italy. With over 3,800 attendees, the event featured fragrance brands from all over the world. India's burgeoning fragrance market was featured as a presentation topic by CRS TrendLab.
CRS TrendLAB selected a panel of India's industry leaders to share their insights on key fragrance growth drivers. Rajiv Sheth, entrepreneur and founder of All Good Scents, is the creator of India's first unique online fragrance perfumery. Shakti Shukla, the director of the Fragrance and Flavor Development Center, provides research and production of burgeoning flavors.
India's Drivers
The panel shared discussions on India's traditional production methods and ingredients. India is the home of Attar, a highly concentrated essential oil generated from flowers and natural ingredients. As synthetic ingredients and chemical distillations provide more cost-effective solutions, traditional distillation methods and the Attar industry are slowly disappearing. Natural scents have been a strong driver for the Indian market with applications in personal care, fine fragrance and incense. Skincare and soap products have been the key factor in the market increase as consumers are focusing on personal hygiene when shopping.
Ingredient demand is based more on regional availability throughout the country. Rose is a popular ingredient in northern regions of India; whereas jasmine and sandalwood are popular in the south.
The panel also discussed the importance of all-natural ingredients that India's consumers place on products. Natural scents are responsible for an estimated $300 million within the last five years and expected to grow another 50% within the next five years.
Online Boom
The online market in Indian fragrances is expected to grow 120% from $22 million to $51.5 million within the next five years. E-commerce expansion can be attributed to mobile phone apps and an increased consumer presence online.
Within the next six years, the Indian fragrance market is expected to increase at a CAGR of 11.94%. Driven by disposable incomes, brand awareness and a burgeoning e-commerce presence, Indian consumers are focusing on personal hygiene through the use of products containing natural ingredients.