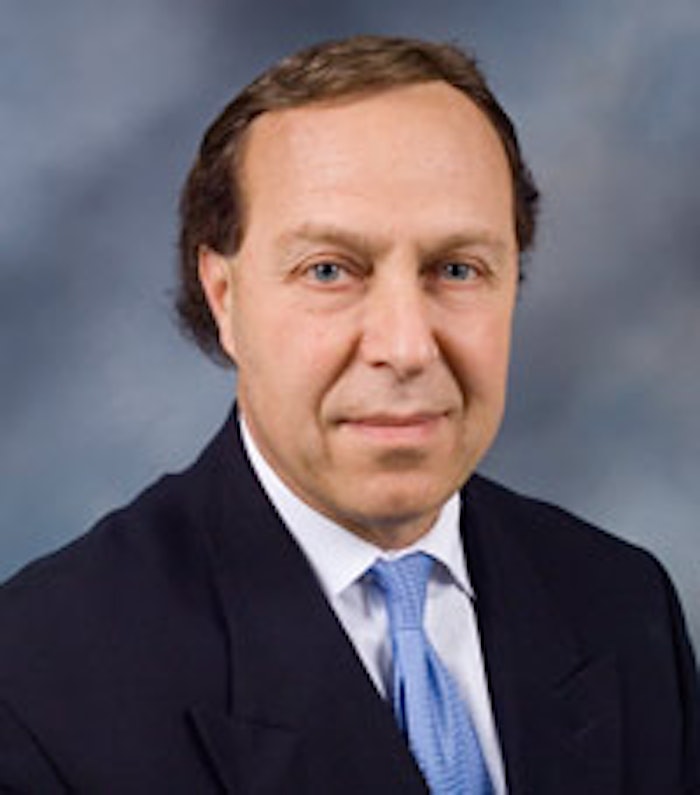 Jack DiMaggio will speak at the World Perfumery Congress (WPC) in Cannes, France, June 1–4, 2010. DiMaggio discusses the importance of developing markets, growing regulatory pressures and more in the March issue of Perfumer & Flavorist magazine.
Read an interview with WPC speaker Karyn Khoury here. Advertise in the official post-show report here.

"How do you bring smart and affordable product solutions to the market - that's our challenge," says Jack DiMaggio, managing director of global fragrances and flavors at Colgate-Palmolive Company. DiMaggio is commercially responsible for flavors and fragrances globally and their delivery into Colgate-Palmolive's oral care, personal care, home care and pet nutrition products worldwide. The company's approach to fragrance development combines both internal and external formulation expertise. In Paris (Bois Colombes), Colgate-Palmolive maintains perfumers who are supported by analytical, evaluation and other staff, who primarily work in tandem with external fragrance suppliers. "We like to have that internal perfumery and compounding capability because it helps us to better understand the fragrance business and stay active on fragrance and flavor issues," DiMaggio says.
Future Brand and Supplier Challenges
"Delivering brands to consumers in over 200 countries provides enormous challenges and opportunities, as do the extremes of our target consumer age brackets," says DiMaggio. In response, Colgate continues to focus on consumers in terms of brand and market understanding, solutions from a fragrance-hedonic standpoint, and technology. "How do we provide differentiation?" He adds that greater emphasis should be placed on consumer insight and behavior testing, as opposed to simply measuring consumer validation at the end of the product development process. Doing this, says DiMaggio, will engage the consumer "up front."
This engagement is crucial for brands as private label offerings gain ground in the retail realm. "Private label companies are really starting to create products that have a certain quality that is acceptable to the consumer," says DiMaggio. "That's going to be a significant challenge [for branded products]." He adds, however, that brands continue to have strong reputations with consumers in terms of quality, safety and differentiation, which must be maintained. "There's more that needs to be done around brand loyalty in the years to come. We need to continue to figure out ways to get consumers to focus on our equity to really drive what it stands for and deliver relevant innovations."
How the Crisis will Reshape the Industry
DiMaggio points out that the fragrance and flavor market will likely grow about 2.5% over the next five years, with developing markets enjoying the most robust growth. While fine fragrance sales are notably down and discretionary products such as air care have dropped considerably, there is strong growth to be found in Colgate-Palmolive's home and personal care categories. "That's where there will be more opportunity and activity for the fragrance houses," he says.
Meanwhile, consolidation among flavor and fragrance houses continues. The top three companies currently represent about 60% of the market, while the top 10 companies encompass some 90% of the market. DiMaggio foresees further consolidation in the future. "The fragrance houses and consumer products companies are succeeding in delivering 'more for less' and providing consumers with more product experiences," he says, adding that as the market comes under pressure, the fragrance industry is going to have to focus more on cost structures. "They're going to have to standardize and simplify their processes. There's going to continue to be pressure on raw materials in the next five years. There will have to be greater innovation in ingredients and in cost structure improvements, and fragrance companies are going to have to rebalance their investments. They're going to have to put more money against the developing markets—that's where the activities are."
Historically, says DiMaggio, fragrance houses haven't had to do that "deeper dive" kind of work. "They had the ability to absorb [market downturns] with a stronger fine fragrance business." Now, the economic crisis and attendant destocking have forced companies to become "more rational, focused and flexible" and redesign the way they work. "It forces them to make changes," says DiMaggio, adding that the shift will necessitate a greater emphasis on intellectual property protection and ingredient development. "They're going to have to keep more of those ingredients captive going forward," DiMaggio notes, "which allows them to protect their IP and ultimately their margins. We're starting to see much stronger R&D capabilities coming out of the fragrance industry. There's a lot more work and investment in technologies and capabilities—even just in the creativity piece itself. The industry really has to stop the commoditization of fragrances."