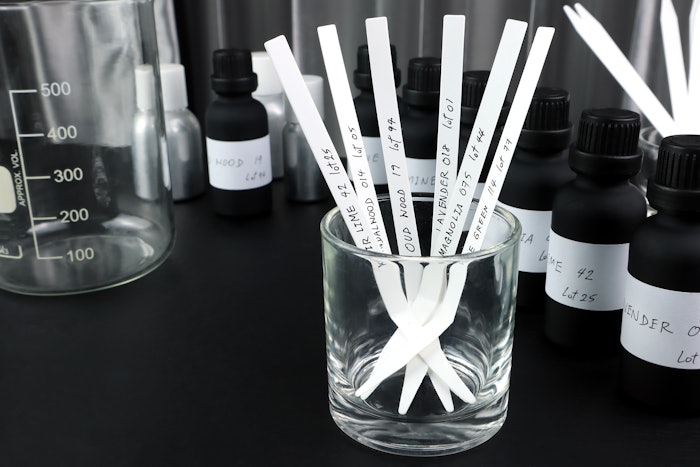 AdobeStock
UK fragrance house, Carvansons, has partnered with Liverpool Moores University senior lecturer, Michael O'Shaughnessy,  to expand Perfume Stories: The Time Travellers project designed to uncover the impact of scent.
Perfume Stories is a series of multi-sensory and storytelling workshops based around scents and perfumes working with current prisoners within the UK prison system.
Originally making its debut in December 2019 at The Tate Gallery in Liverpool, O'Shaughnessy's project, with the support of prison education provider Novus.
Perfume Stories
These sessions take place over several weeks where the learners are asked to smell the perfumes and fragrances. They are then encouraged to undertake critical thinking and make connections between the history and context of a perfume, whilst also considering their opinions and thoughts about the scents they are experiencing.
These scents are intended to evoke memories and provide stimuli for educational exploration. Studies have shown that people can remember a scent with 65% accuracy after one year compared to the loss of visual memory which is reduced to 50% after only a few months.
For many of the learners, these initial responses become starting points for other creative practices such as creating writing, poetry, spoken word or image making. 
O'Shaughnessy explained, The response we have had to this project has been fascinating. For some of the participants these scents evoke childhood memories, some of them positive and some less so. They are, however, a different way of attempting to reach individuals who may have otherwise chosen not to engage with educational projects." 
He continued, "This alternative approach to learning and describing past emotions and experiences is something that the project participants may not have experienced before. They engage well with both history and the neuroscience behind what they are smelling. Their own stories can be really profound, but the intention is that they leave with greater knowledge and an understanding that learning can be liberating."
Michael was approached by the prison education provider, Novus to trial the project with prisoners at HMP Liverpool. The response from the prisoners was so positive that it has since been introduced at HMP Hindley and HMP Buckley Hall. Novus are the education and skills provider in over 50 prisons across England and Wales. By working closely with Sarah Hartley, the National Lead for Creative Strategies and her team, Michael then looked at ways to elicit emotional and analytical responses from prisoners.
This project is said to directly link to the wider prison service agenda around rehabilitation and reform. One of the key goals for this project is to support the aims of Novus in addressing low literacy rates of offenders and evaluate the impact it may have on reoffending rates across prisons in the UK. These reform-orientated projects are critical in rehabilitation and in attempting to curb re-offending rates. These sessions not only provide a creative outlet but also build their confidence around learning.
Expanding the Fragrance Library 
Looking to add to the Perfume Stories' fragrance library, O'Shaughnessy partnered with Carvansons.
 O'Shaughnessy shared, "I approached Carvansons with this project because of their fragrance knowledge and expertise to see if they were interested in supporting the project and creating a couple of bespoke scents to help support the project"
Carvansons marketing manager Victoria Last added, "This was a really interesting project to be asked to be involved in. As manufacturers of fragrances and perfumes, we know how impactful scent and fragrance can be but the possibility of it being beneficial for society as a whole is intriguing."
Participant Feedback
"The moment I first detected the scent, I pictured myself standing on a shore with huge waves crashing onto the beach. I can't fully explain this image but it seems to be similar to a day in September 1988 when, aged 23 I stood on the beach at Aberystwyth looking out to sea daydreaming. The colour that came to mind, not unexpectedly was light blue. I've done a lot of education in prison over time and this project is totally different from anything I have done before."
"How I respond to the past affects my future and my future can be seen in the mirror of my choosing."