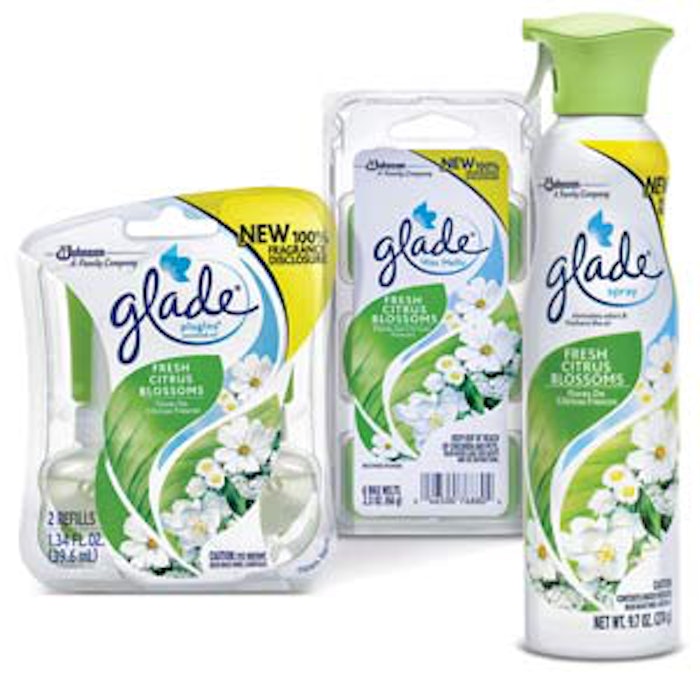 Do consumers need to know the individual fragrance components of their room spray consist of decanal, dimethyl heptenal, γ-decalactone and more? SC Johnson thinks they should. 
Less than a year after announcing it would reveal specific fragrance ingredients in Glade as a major part of its transparency initiatives, SC Johnson has become the first major consumer products company to get more clear about its ingredients by revealing 100% of its fragrance ingredients down to the component level for its new Glade Fresh Citrus Blossoms Collection. All fragrance ingredients are listed on the products and on SC Johnson's WhatsInsideSCJohnson.com ingredient website.
"This differs from those companies that disclose natural fragrances or essential oils in aggregate, even though natural fragrances contain tens or even hundreds of individual components that go undisclosed," the company noted.
The Glade Fresh Citrus Blossoms collection includes Premium Room Spray, PlugIns Scented Oil Refill and Wax Melts Refill.
Transparency From the Top Down to the Component Level
"Making thoughtful ingredient choices has been an SC Johnson priority for decades," said Fisk Johnson, chairman and CEO of SC Johnson in a written statement, "and the key to this is continually challenging the status quo ... By sharing the full ingredient list for this fragrance – all the way down to the component level – we're going beyond the norm of even so-called 'natural' products. And, we're also acknowledging the valuable role chemicals play," he added. 
Natural fragrances remain a black box, with no transparency for consumers, SC Johnson noted.
"Nature is a wonderful chemist that makes many amazing fragrances. However, it doesn't disclose the ingredients in these fragrances and neither do the companies using them," explained Johnson. "Essential oils, for instance, are complex mixtures of tens if not hundreds of chemicals produced by nature and processed by physical and chemical means," he said.
Addressing Safety
Proposition 65, which has recently made headlines about a number of ingredients including aloe vera whole leaf extract, requires the state of California to maintain and update a list of chemicals known to the state to cause cancer or reproductive toxicity. For example, cinnamon essential oil contains myrcene, estragole, methyl eugenol and safrole, which are listed on California Proposition 65 and have been raised as ingredients of concern when used at significantly higher concentrations. 
Myrcene is found in many common essential oils such as grapefruit, lemon, rosemary and lemongrass. Another common essential oil, lilac leaf, includes both estragole and methyl eugenol. However, the presence of these chemicals does not mean fragrances are unsafe, as the concentrations are so low they pose no threat, SC Johnson said. Yet, they do occur, but "none of these are present in the new Glade Fresh Citrus Blossoms collection," according to the company's statements.
The new Glade Fresh Citrus Blossoms collection, which the company said is crafted from 100 percent disclosed fragrance components, contains "nature-inspired" ingredients, most are nature-identical and all pass SC Johnson's screening criteria. 
Ingredient Disclosure Moves
SC Johnson introduced ingredient disclosure in 2009, shared fragrance ingredients in 2012, published a list of ingredient restrictions for transparency about how SC Johnson makes ingredient choices in 2014, and launched a product-specific fragrance disclosure in 2015, disclosing more than 99.9% of ingredients in most product formulas.
Other companies following the push for transparency by making fragrance ingredient disclosures include Reckitt Benckiser and Clorox. And most recently, the American Cleaning Institute (ACI) moved into the final phase of its Cleaning Product Ingredient Safety Initiative (CPISI), which offers complete safety information for every ingredient used in every formulated consumer cleaning product manufactured by its member companies. Read more of ACI's story in Perfumer & Flavorist.