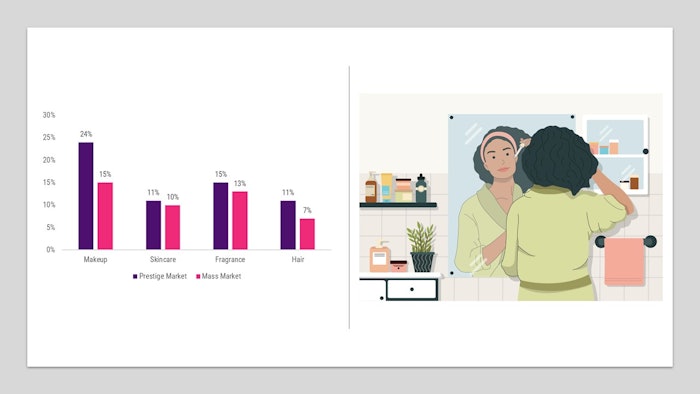 Q1 2023 U.S. prestige beauty sales grew 16% year-over-year, totaling $6.6 billion, according to point-of-sale data from Circana (formerly IRI and The NPD Group). The mass beauty market generated $7.0 billion in the same period, representing growth of 10% versus the same period of 2022.
To compare, U.S. prestige beauty sales revenue for 2022 grew by 15% year-over-year, totaling $27.1 billion. Combined mass and prestige beauty product market revenue growth for 2022 was 11%, per Circana. Yet only prestige unit demand remained strong.
Hair Health Dominates
Prestige hair care sales increased 11% in Q1, while mass grew 7%. While prestige sales grew faster, mass hair care still represents 3/4 of total hair sales volume.
Once again, hair health was a major growth driver, particularly targeted treatments, heat protectants, leave-in treatments, scalp care and hair thinning solutions. These product types outgrew the general hair category, per Circana.
Hair care results also benefited from the highest year-over-year average price increase across all beauty categories. In particular, this growth was driven by an increase in sales of products priced above $30. 
Lip Drives Makeup Boom 
Makeup was the fastest-growing sector of both prestige and mass markets, capturing nearly 1/3 of complete beauty sales revenue in Q1.
Makeup prestige sales were up 24%, while mass grew 15%.
As seen in full-year 2022, lip products represented the fastest-growing prestige makeup segment, rising 43%. Notably, higher-priced designer brand lip products grew even faster than that.
Clinical, Mass Facial Care Drive Skin Results
Skin care prestige and mass sales growth was almost equal, totaling 11% and 10%, respectively.
Facial skin care mass market sales grew 13% in Q1, while prestige facial care grew 10%.
Meanwhile, echoing an ongoing trend, clinical brands grew faster than natural brands in the prestige sector, driven by an array of new launches.
Value Wins in Fragrance 
Prestige fragrance sales grew 15% in Q1, while mass fragrance grew 13%. Top performers included gift sets, including a 31% jump in prestige sets. Circana attributes this bump to more shelf space and value-seeking consumers.
Almost 40% of prestige unite sales were attributed to fragrance sizes less than 1 oz, reflecting a desire for on-the-go behaviors and, again, value-seeking shopping patterns (owning a prestige product for a low price point).
Beauty Remains Resilient
"Following a stellar 2022, the beauty industry continues to bask in the glow of growing sales," said Larissa Jensen, beauty industry advisor at Circana. "The first quarter results reinforce beauty's resiliency and unfaltering position as an indispensable category. As the prestige and mass industry lines blend, a clear picture of the complete beauty market becomes particularly important for brands and retailers to determine 'where to grow from here' and best harness the purchasing power of a consumer base that is already loyal to its products."