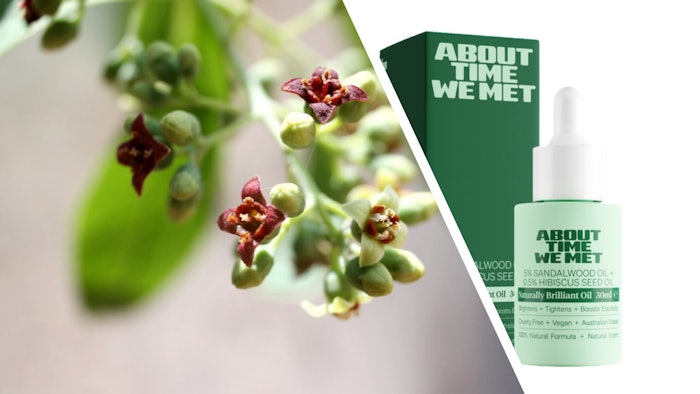 Indian sandalwood's benefits span aesthetic, emotional and functional claims, making it an ideal hero ingredient for clean, wellness, natural and sustainable brands.
In formulations, the ingredient can calm the mind and relieve anxiety, reduce signs of aging and skin inflammation, and allow fragrances to linger longer*. In addition, Indian sandalwood has a legacy of spiritual connections, adding another layer of emotional benefits.
Even better, the beauty industry's demand for Indian sandalwood has helped revive a once at-risk species.
During "The Ultimate Ingredient for Modern Skincare," an on-demand beauty innovation briefing, Quintis' Ana Prieto discusses:
2023 cosmetic and skin care trends

the benefits of sandalwood in formulations

sandalwood skin care case studies

the rehabilitation of the Indian sandalwood species
In addition, registrants will be eligible to receive a sample of Indian sandalwood oil or powder. 
During her talk, Prieto discusses a recent proof of concept, About Time We Met, an Australian-made range including a skin oil, repair serum, radiance serum, restorative night cream, day cream, foaming cleanser, refreshing mist, cream cleanser and AHA clay mask, all of which featured Indian sandalwood oil.
Inclusion levels of the oil ranged from from 0.2% to 5.0%. According to Quintis, studies have shown that the benefits of the ingredient start at 0.1%, with efficacy improving as inclusion levels increase.
Don't miss out on this free briefing. >>>Register now.<<<
*Per Quintis, key benefits of Indian sandalwood include:
reduction of the effects of pollution
reduction in the signs of aging
increase in alertness and focus
repair of UV and blue light damage
management emotional eating