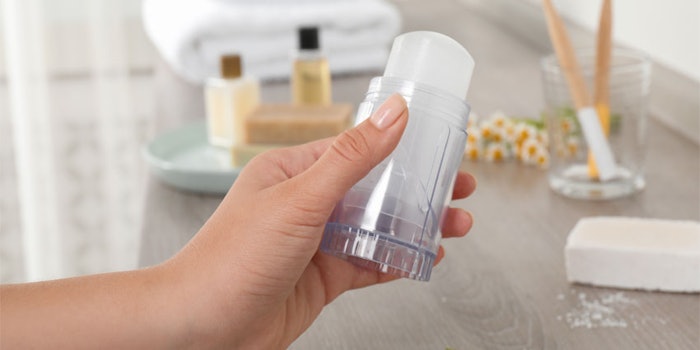 A report by Grandview Research states that the global perfumes and deodorants market size, having been valued at $66.25 billion in 2019, is forecasted to increase by a CAGR of 3.9% between the period 2020 to 2027.
Related: Report: Global Essential Oils Market Growth
Driven by the consumer interest in premium perfumes and deodorants, and willingness to pay more, the market continues to broaden trends within beauty and personal care.
Highlights of the report include:
Trends like cruelty-free and vegan fragrances have caused internationally-reputed perfume and deodorant brands to focus on "green" product development.
The deodorants segment held the largest share of 57.2% in 2019 and is expected to maintain its lead throughout the forecast timeframe.
Recent years have witnessed a considerable rise in the number of players entering the deodorant space, most notably in countries such as India and China.
The perfumes segment is expected to expand at the fastest CAGR of 4.2% over the forecast period. The growth of this segment is principally attributed to the rising popularity of luxury perfumes worldwide.
Supermarkets & hypermarkets emerged as the largest segment in 2019, with a market share of 27.8%. This segment is likely to retain its pole position throughout the forecast period to claim a market share of 25.8% by 2027.
The e-commerce segment is anticipated to witness the fastest growth over the forecast period.
North America emerged as the largest regional market for perfumes and deodorants in 2019 with a share of 33.9%.
Europe is expected to witness significant growth throughout the forecast period owing to rising consumer spending on premium and luxurious perfumes and deodorants.
Small-and medium-sized specialist retailers continue to face fierce competition from internationally-reputed market players who operate through large retail formats, such as supermarkets and hypermarkets.
Product development, mergers & acquisitions, and capacity expansion are among the most preferred competitive strategies by key vendors in the market.
Want to know everything going on in flavor & fragrance? Sign up for P&F+'s newsletter. You can also follow along on Instagram and LinkedIn.