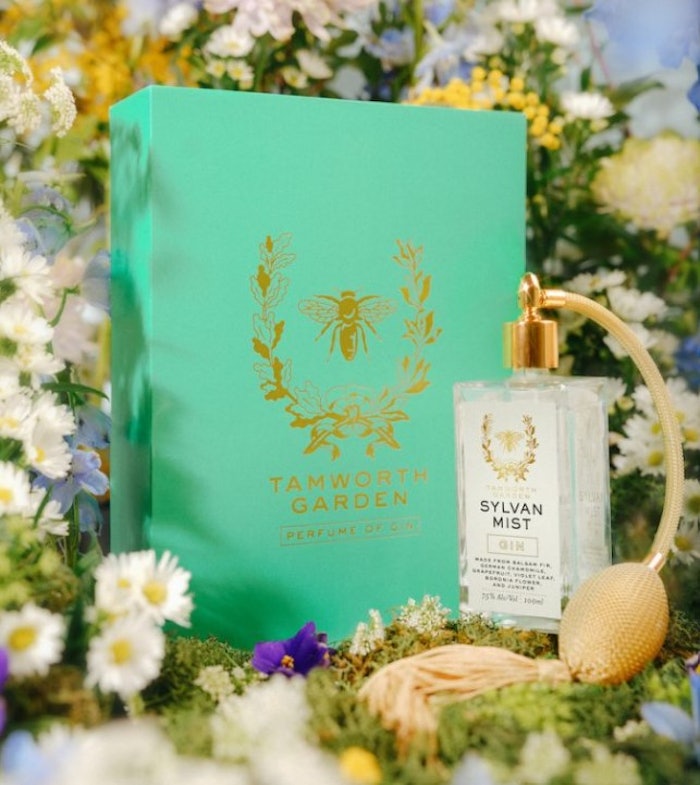 Tamworth Distilling has launched Tamworth Garden Sylvan Mist, a gin atomizer that branches between both scent and spirit as a wearable woodsy unisex fragrance and cocktail modifier.
This food-grade perfume features ingredients that are sourced as all-natural, essential oils infused in a high proof alcohol to achieve the high flavor density of a perfume gin.
Tamworth Garden Sylvan Mist's flavor profile boasts sunny boreal forest, fresh cut grass, violets, kiwi skin and honeydew melon.
The assembly of boronia flower and violet leaf establish the base structure of a classic perfume. While more masculine fractions of balsam fir and citrus rind contribute weight and ground the base notes. Chamomile flowers round out the brightness, offering mellow soft, top notes.
The Sylvan name is a nod to the Latin word, sylva, meaning wood or forest.
The perfume is presented in a 100 ml glass bottle with an atomizer spray pump and gold hardware.
It is available exclusively at Tamworth Distilling and on Seelbachs.com.
Steven Grasse, owner of Tamworth Distilling, said, "Here at Tamworth, the stories we tell are the spirits we create. We have gained quite a reputation for the bold experimentation of the whiskies within our House of Tamworth line, so we applied this same sense of wonder to our world of our gins. We're telling the story of our local flora in the form of the most floral spirit possible: gin. Sylvan Mist sings the song of the flowers and the forest as both a gin mist and perfume. It's an unfolding bouquet, adorned with balsam fir, German chamomile, grapefruit, violet leaf, boronia flower and juniper." 
Matt Power, distiller and botanical chemist, said, "Designed as the ultimate accessory, Sylvan Mist can be layered on a cocktail just like perfume is applied as the finishing touch to a sultry outfit for the perfect night out."