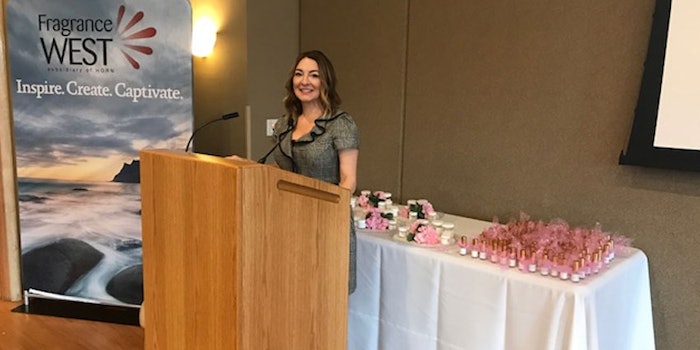 It's not every day you're given permission to let go of your spreadsheets, formulations, ingredients and paperwork. And, to make it even more enjoyable, being asked to reconnect with your original inspirations for working in the industry.
Members of the Chicago Women in Flavor & Fragrance Commerce (WFFC) and the Midwest Society of Cosmetic Chemists (SCC) did just that. The two organizations came together to break bread and network at "Creating Natural Experiences Through Fragrance," a joint meeting on April 11, at the Morton Arboretum in Lisle, Illinois.  
Viewing Fragrance Holistically
Sherri Sebastian, event speaker and senior perfumer at Fragrance West, welcomed attendees to view fragrance from a holistic approach during her presentation.
"I'm lucky to be part of an industry that influences everyday experiences for so many people," said Sebastian.
Whether it's a familiar perfume from a family member, a scent from a landscape you grew up around or something as delicious as homemade pierogis, Sebastian added, "The first concept or memory that most of us have is influenced by a tangible aroma."
A "Sense" of History
During her presentation, Sebastian played three iconic commercials from three iconic brands that aired in the '70s and '80s. During the commercials, attendees smelled three jars and tried to match the scent to the commercial. Scents included Finesse shampoo, Jean Nate by Revlon Body Splash and Charlie by Revlon perfume.
"As style changes so does fragrance," she said. "In the 1980s, scents were bold, like Poison and Passion. In the 1990s, scents had clean lines and were sheer, like CK1."
Now as consumers demand sustainable, organic and natural products, new trends are forging forwards.
"During my 24 years as a perfumer, I estimated that I've personally written 30,000 formulas," said Sebastian. "That's a lot of blood, sweat and tears; however, what I've kept with me are the experiences and those tangible memories the consumers will have."