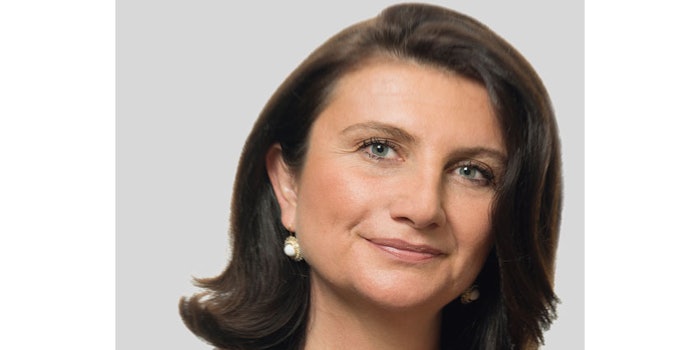 Photo courtesy of Firmenich.
Awarded to 10 women advancing in the United Nations Sustainable Development Goals, the World Business Council for Sustainable Development's (WBCSD) Leading Women Award was presented to Bérangère Magarinos-Ruchat of Firmenich. The award is presented to member companies within the WBCSD.
"This recognition highlights Bérangère's outstanding career and her passion to collaborate with others through partnerships that bring mutual benefits to the companies and parties involved," said Peter Bakker, president and CEO at WBCSD.
Magarinos-Ruchat joined the United Nations System Staff college in 1998 and led the Partners in Action Program in more than 20 countries. She then joined the Global Alliance for Improved Nutrition in 2004 where she became the director of partnerships. She eventually created the GAIN Business Alliance, which is a food and beverage global network for nutrition issues.
In 2010, Magarinos-Ruchat joined Firmenich to lead the sustainability partnerships. She earned her PhD in international relations from the Maxwell School of Citizenship and Public Affairs from Syracuse University. Her postgraduate degrees came from Cambridge University and Stanford University in public private partnership management and social innovation.
Partnering for Sustainability
Magarinos-Ruchat now sits on the Investment Committee of the Livelihood Funds and the steering committees for the Toilet Board Coalition and Juice CSR Platform. She also joined the Swisscontact Board of Trustees in 2016 and was named the head of sustainability of the year by Ethical Corporation in 2015.
Magarinos-Ruchat  said, "Firmenich has always understood that sustainability is not a trend, but a way to do business with a long-term focus. Our culture has been critical in enabling me to scale up the Group's impact by partnering with like-minded visionary companies. I would like to thank our Chairman, Patrick Firmenich, our CEO, Gilbert Ghostine and our executive committee, and our Head of Sustainability David Shipman, for their vision and trust."
Firmenich has reaffirmed its sustainability goals to become carbon neutral for 2020. Gilbert Ghostine, president and CEO of Firmenich, was elected co-chair of the WBCSD sustainable lifestyle cluster in 2015.