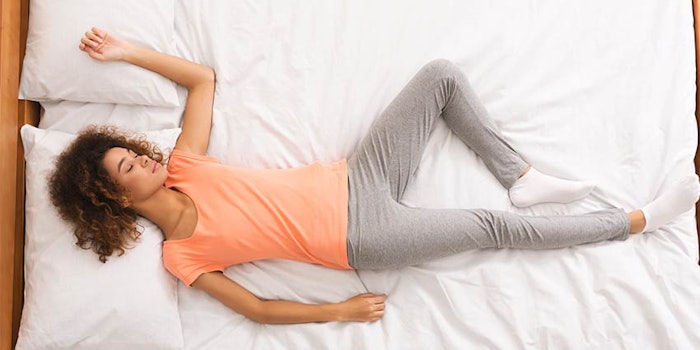 International Flavors & Fragrances (IFF) has announced a partnership with SleepScore Labs, a company that produces data-backed sleep solutions, to create and validate products designed to support healthier lives with improved sleep. Scent has significant potential as a non-invasive, non-addictive means of supporting sleep.
The partnership is notable considering consumer sleep products are mostly backed with anecdotal evidence, as opposed to scientific proof.
For more than a decade, SleepScore Labs has studied millions of hours of sleep. The partnership with IFF reinforces SleepScore Labs' commitment to ensuring consumers purchase products that help optimize sleep and help consumers achieve a more complete night of sleep.
"This partnership marks a strategic decision by IFF to extend our leadership in the 'beyond sensorial' market," said Nicolas Mirzayantz, IFF's Divisional CEO, Scent. "Together we will build on IFF's Consumer and Sensory Science knowledge and SleepScore's best-in-class data capture and analysis capability to deliver validated scent-based sleep solutions for consumers."
More than 70% of the developed world is impacted by poor sleep, which results in poor health, weight and productivity. In correlation to this, IFF recognized that SleepScore Labs was positioned to assist the company in identifying the most promising scent ingredients to test and then supporting those findings with more robust scientific field research.
"Our work with IFF is just one example of how SleepScore is the only company in the sleep space able to incorporate measurement, data, and actionable insights to help organizations strengthen their health and wellness offerings." said Colin Lawlor, CEO at SleepScore Labs.
Since 2018, both companies have been collaborating on a sleep fragrance and together have since gathered more than 6,500 nights of objective sleep data. As its first step in the collaboration, SleepScore clinically tested an initial scent creation prototype: a pillow spray designed to support healthy sleep. Results of the counter-balanced, double-blind, placebo-controlled study revealed that the scent provided the greatest benefit to healthy sleepers.
Objective sleep measurement showed that participants spent 26% less time awake at night after falling asleep when they used the scent. These scientifically-proven results support the development of new product categories designed to help consumers sleep better.
SleepScore Labs' scientists conducted a study to test the effectiveness of a scented pillow spray over 800 nights, taking self-reported data and objective sleep measures each night.
"IFF's approach sets a great example of how cross-disciplinary sleep innovation should ideally be managed," said Roy Raymann, Ph.D., chief scientific officer at SleepScore Labs. "By combining our expertise in objectively validating sleep products, with IFF's deep knowledge of fragrances and ingredients, together we can ultimately help consumers get a better night's sleep."