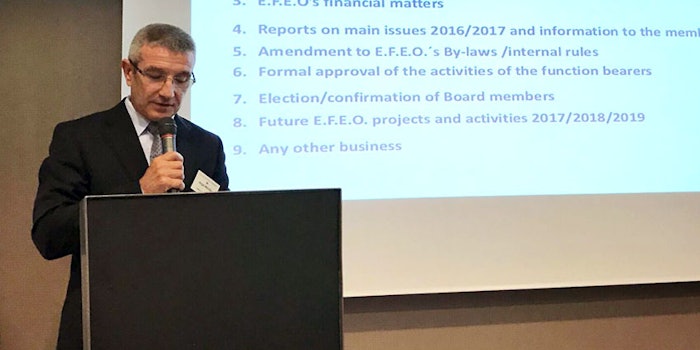 The European Federation of Essential Oils (EFEO) celebrated its 15th anniversary at its recent annual General Assembly meeting in Paris on June 12, 2017. Ingredient quality, regulations and oil varieties such as bergamot and sandalwood album were on the table during the meeting. Read on for a taste of the presentations.
Quality First
Natural active ingredients can pose issues when being sourced—with ingredients coming from around the world, Hélène Chaumont and Corinne Cazeneuve (Puressentiel France) noted that political problems, logistics, demand, plant diseases and natural disasters can make sourcing difficult in their presentation "Quality at its Pure Stage." Additionally, companies committed to social and environmental responsibility will also need to navigate regulations for raw materials and final products.
Popular Choices
Sustainable cultivation of bergamot oil was the discussion during a roundtable with Maïa Lernout (Takasago), Hamish Taylor (Symrise), Gianfranco Capua (Capua 1880), and Vilfredo Raymo (Simone Gatto) entitled "Light on Bergamot and Sustainable Cultivation." Interest in the oil has increased in recent years, leading to 4,500 new planted acres of bergamot to meet demand, while farmers were able to strike a balance with consumers in order to make cultivation worthwhile financially. Also on the rise are expanding applications for the oil, including food due to its improved taste.
Sandalwood was also discussed during Danae Christensen's (Quintis) presentation "Santalum Album: Reawakening the World to a Wellbeing Super-Ingredient." Used in 70% of 2014's top 10 fragrances, sandalwood notes have an unerring popularity. The Sandalwood Album ingredient, she explained is derived from parasitic sandalwood growing on host trees over 15 years. With increased demand, seed stocks have been improved to keep up with Quintis' 5.4 million trees.
Regulatory 
Issues faced by oil distilleries and growers were discussed in "French Essential Oils, Facing Regulation" by Rémy Bontoux (Bontoux SA) and Patrick Garnon (France Agrimer), Administrators of CIHEF.
According to the presentation, REACH guidelines consider distilleries of ingredients such as lavandin and lavender as producers instead of service providers, as the growers themselves own the oil. Additionally, the small size of many distilleries can lead to a struggle to comply with REACH. These issues, along with the disease phytoplasma affecting lavandin and lavender yield, led to a revolt by small and medium enterprises (SMEs) that concluded with the European Chemicals Agency (ECHA) and French government allowing distilleries to pre-register.