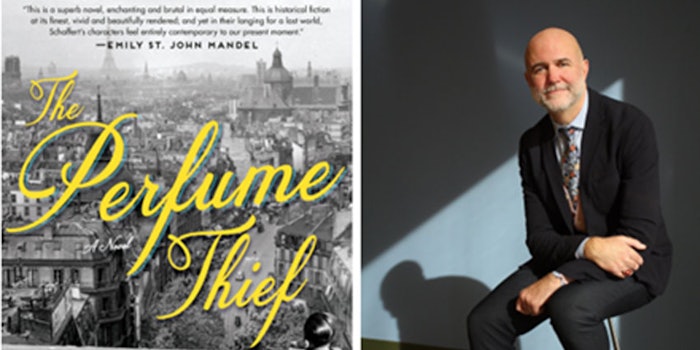 Timothy Schaffert has debuted his newest novel, The Perfume Thief.
Related: New Book Focuses on Fragrance Development
Set in Paris, a gentleman in Moscow meets "Moulin Rouge" on the eve of World War II, where Clementine, a queer American ex-pat and notorious thief, is drawn out of retirement and into one last scam when the Nazis invade.
About the book, Schaffert said, "Our memories are redolent with scents we can't easily conjure—the soap at an old hotel you stayed at once, or the sweet, warm air of a pastry shop long-since closed, or your grandmother's perfumed talc, no longer in production. All that remains is the memory, and never again the scent itself—how much might we pay just to breathe in those aromas once again? Clementine, the title character in The Perfume Thief, recognizes the value of lost and inaccessible scents and the tantalizing possibilities they might hold for an industrious criminal. I spent several luxurious months researching what rich and evocative fragrances might perfume her criminal record."
Timothy Schaffert is the author of five previous novels, The Swan Gondola, The Coffins of Little Hope, Devils in the Sugar Shop, The Singing and Dancing Daughters of God and The Phantom Limbs of the Rollow Sisters. As a professor of English and director of creative writing at the University of Nebraska-Lincoln, he also writes the column "The Eccentricities of Gentlemen" for lifestyle magazine Enchanted Living.
The Perfume Thief is now available for pre-order on Amazon for $22.54, and will officially release on August 3, 2021.
Want to know everything going on in flavor & fragrance? Sign up for P&F+'s newsletter. You can also follow along on Instagram and LinkedIn.