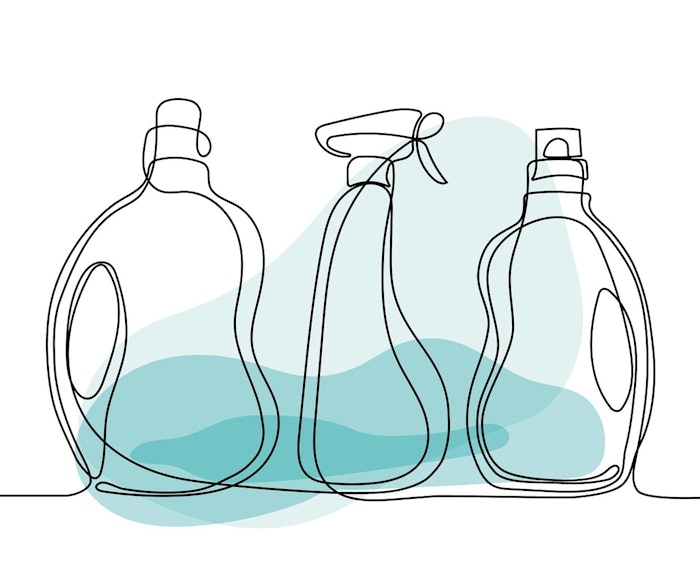 C/O Symrise
Symrise has launched a collection of multifunctional ingredients for home care products designed to improve cleaning performance, product aesthetics and enhance formula protection of products such as laundry, dishwashing, and surface care detergents. 
According to the company, the collection of ingredients is designed to meet the growing demand for high-performance sustainable cleaning agents while adhering to regularly changing regulatory requirements for manufacturers. 
Per Symrise, the collection highlights include:
Shorter ingredient lists and less packaging.
The ingredients improve the household care products' grease removal power and thus increase their cleaning power.
The multifunctional ingredients of Symrise also provide a solution for enhancing the protection of the formulation since they keep the most important ingredients, such as enzymes, stable. 
Improved product aesthetics allow the modulation of viscosity and improvement of solubilization properties. 
Enhanced sensory benefits and antioxidant properties, which in turn benefit the product's foam volume and scent stability.
"We were able to develop this product category based on our profound ingredient expertise. Our multifunctional ingredients are created with three key features: innovation, expertise and sustainability. We feel confident that we will continue to develop smart solutions for the household care products market," says Jörn Andreas, president, Scent & Care at Symrise. 
"Our multifunctional ingredients score points because of their low carbon footprint and their biodegradability in both aerobic and anaerobic conditions. The innovative technology is suitable for the EU EcoLabel and for EcoCert certification for detergents," says Tony Bartolini, global category director, Home Care in Micro Protection, at Symrise.