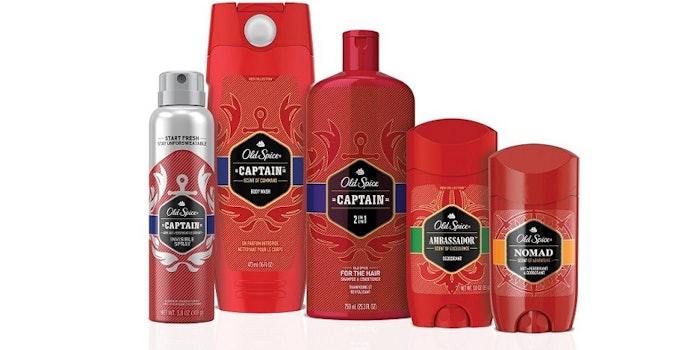 Old Spice has launched its latest Red Collection of premium scent products.
Taking inspiration from fragrance trends and paired with Old Spice's "Fade-Resistant Scent Technology," the collection will include deodorants, body washes, body sprays and shampoo products. Additionally, the collection of products will come in several scents and be based on Old Spice's nautical theme. The scents include:
Captain: The Scent of Command. A modern scent with citrus and subtle green notes. 
Ambassador: The Scent of Excellence. A masculine scent with creamy amber and woody notes.
Nomad: The Scent of Adventure. An aquatic fragrance that includes citrus and watery fruit scents.
"We have some of the world's most renowned perfumers on our team and we're excited to democratize the premium scent experience by introducing scents inspired by fine fragrance brands… to guys everywhere in the male grooming aisle," said Janine Miletic, Old Spice brand director at Procter & Gamble.
Old Spice premiered the fragrance collection in a commercial  that aired during the Grammy Awards on January 28, 2018.